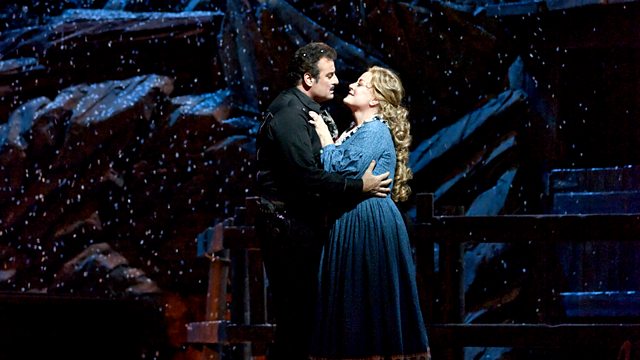 Puccini - La fanciulla del West
Deborah Voigt stars as Puccini's Girl of the Golden West at the New York Metropolitan Opera. It's the 1840s and the Californian Gold Rush is in full swing - and Minnie, the upstanding tough cookie of a local bar owner, falls for the local outlaw Dick Johnson. But the sheriff Jack Rance loves her too... Puccini thought the opera was the best he'd ever written: here's your chance to find out why.
Presented by Penny Gore
Minnie ..... Deborah Voigt, soprano
Dick Johnson ..... Marcello Giordani, tenor
Jack Rance ..... Lucio Gallo, baritone
Nick ..... Tony Stevenson, tenor
Ashby ..... Keith Miller, bass
Sonora ..... Dwayne Croft, baritone
Trin ..... Hugo Vera, tenor
Sid ..... Trevor Scheunemann, baritone
Handsome ..... Richard Bernstein, baritone
Harry ..... Adam Laurence Herskowitz, tenor
Joe ..... Michael Forest, tenor
Happy ..... David Crawford, baritone
Jim Larkens ..... Edward Parks, bass
Billy Jackrabbit ..... Philip Cokorinos, bass
Wowkle ..... Ginger Costa-Jackson, mezzo-soprano
Jack Wallace ..... Oren Gradus, baritone
The Pony Express rider ..... Edward Mout, tenor
José Castro ..... Jeff Mattsey, baritone
Metropolitan Opera Chorus and Orchestra
Nicola Luisotti, conductor
4.15pm
BBC Symphony Orchestra
Haydn: Trumpet Concerto
Giuliano Sommerhalder, trumpet
Jiri Belohlavek, conductor
4.40pm
Sibelius: Rakastava
Arild Remmereit, conductor.
Last on