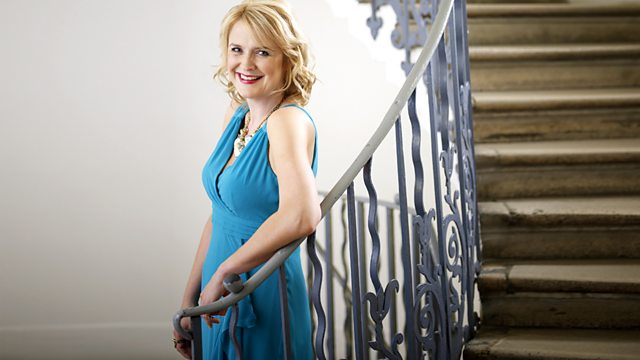 Thursday - Sarah Walker
Classical Collection with Sarah Walker. This week's collections - music inspired by St Petersburg; Weber's Concertante works and our Artist of the Week: Dietrich-Fischer-Dieskau. Today's highlights include Balakirev's oriental fantasy Islamey, Stravinsky's Rite of Spring, and our Thursday Light Music is the London Suite by Albert Coates. Dietrich Fischer-Dieskau sings an aria from Bach's St Matthew Passion and later is joined by Carlo Bergonzi for Rodrigo's death scene from Verdi's Don Carlos.
10.00
Stravinsky
Feu d'artifice, op.4
St Petersburg Philharmonic
Vladimir Ashkenazy (conductor)
Decca 448 812-2
10.04
Balakirev
Oriental Fantasy for piano, op.18 Islamey
Boris Berezovsky (piano)
Teldec 4509-96516-2
Thursday Light Music
10.11
Coates
London Suite
Royal Liverpool Philharmonic Orchestra
Sir Charles Groves (conductor)
EMI Classics for Pleasure 3523562
10.27
Bach
Mache dich mein herze rein
from St Matthew Passion
Dietrich Fischer-Dieskau (baritone)
Munich Bach Orchestra
Karl Richter (conductor)
Archiv 439 338-2
10.35
Weber
Concertino for horn and orchestra in E minor, op.45
Hermann Baumann (horn)
Gewandhausorchester Leipzig
Kurt Masur (conductor)
Philips 412 237-2
10.51
Verdi
Per me giunto - il di supremo
The Death Scene from Don Carlo
Dietrich Fischer-Dieskau (Rodrigo)
Carlo Bergonzi (Carlo)
Orchestra of the
Royal Opera House, Covent Garden
Sir Georg Solti (conductor)
DG 469 097-2
11.05
Liszt
Liebestraum no.3, S541.3;
Grand galop chromatique, S219
Jorge Bolet (piano)
Decca 478 2374
11.11
Wagner
Prelude to Act 1 of Lohengrin
Leningrad Philharmonic Orchestra
Evegny Mravinsky (conductor)
Erato 2292-45762-2
11.20
Stravinsky
Petrushka (original version)
The Cleveland Orchestra
Pierre Boulez (conductor)
DG 477 8730.
Last on