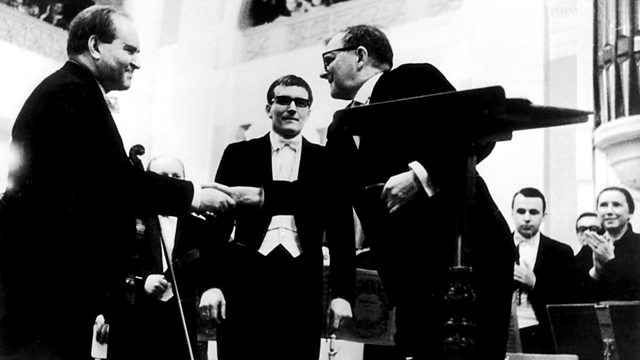 Nikolai Roslavets
Donald Macleod explores Shostakovich's brilliant youth - and the work of five extraordinary lost musical souls - amidst the turmoil and extraordinary originality of 1920s Russia.
---
We're familiar with the image of Dmitri Shostakovich the doomed, tragic hero - his epic symphonies and cryptic musical messages battling a totalitarian regime.
Yet...once upon a time, as a young man, he was a brilliant, fearless avant-garde composer - just one of a slew of daringly original musical voices in what was perhaps the world's most heady and exciting artistic melting pot at the time: 1920s Soviet Russia.
This was not - yet - a time of purges and gulags, spies and Socialist Realism. Instead, artists, film-makers and composers were emboldened by the promise of a bright new Soviet future - composing radically original works that made the country a crucible of new, visionary art and music.
It was not to last. This week, Donald Macleod looks at "young Dmitri"'s dazzling work of the 1920s - a period of musical adventurousness and biting musical wit that he would never be allowed to show again. Highlights include excerpts from his surreal opera "The Nose", his film music to "The New Babylon" and his incidental music to the avant-garde play, "The Bedbug".
He also re-evaluates Shostakovich's little-played Second and Third Symphonies (with a rare, complete performance of each work). He reveals that despite their much-derided choral finales - praising the Soviet way - the symphonies are full of extraordinary musical daring - audacity that the composer would never be allowed to attempt again.
In each of the week's programmes he pairs Shostakovich's music with a work by a contemporary from the 1920s. You're unlikely to hear the music of Gavri'il Popov, Alexei Zhivotov, Nikolai Roslavets, Alexander Mosolov and Vladimir Deshevov in a concert hall near you anytime soon. Yet during this remarkable burst of creativity in the 1920s, these composers composed works that still sound extraordinary even today.
For once, these composers are given their moment in the sun...as Donald Macleod explains how unlike the great survivor Shostakovich, their musical promise was to be cruelly - and tragically - snuffed out.
In Monday's episode, Donald Macleod looks as Shostakovich's very earliest years, introducing his opus 1, written as a precocious 13 year old, as well as two dreamy, sensuous poems for piano by his contemporary - and would-be musical revolutionary - Nikolai Roslavets.
Last on
More episodes
Previous
You are at the first episode