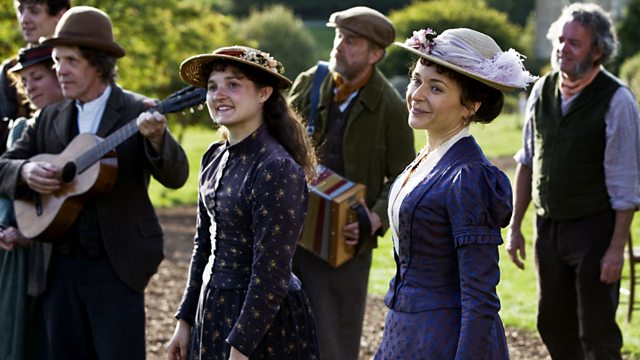 Thomas is euphoric when he lands the job of organising the church bazaar. But his joy soon evaporates when the vicar falls ill, and the controversial and free-thinking curate Reverend Marley takes charge.
Thomas is convinced that Marley is evil incarnate, and when he comes across a snake on his postal rounds, he sees it as a sign that the devil is indeed amongst them.
Though the curate is famous for his charity, Alf is unsettled by rumours of Marley's dark past and his late night visits to the Timmins' cottage. But will he uncover the truth about Marley, and will they ever catch the snake?
Last on
Credits
| Role | Contributor |
| --- | --- |
| Director | Sue Tully |
| Reverend Marley | Burn Gorman |
| Emma Timmins | Claudie Blakley |
| Thomas Brown | Mark Heap |
| Alf Arless | John Dagleish |
| Daniel Parish | Ben Aldridge |
| Queenie Turrill | Linda Bassett |
| Minnie | Ruby Bentall |
| Sydney | Edward Darnell-Hayes |
| Frank Timmins | Fergus Drysdale |
| Baby Annie | Christina Ford |
| Laura Timmins | Olivia Hallinan |
| Ruby Pratt | Victoria Hamilton |
| Gabriel Cochrane | Richard Harrington |
| Twister Turrill | Karl Johnson |
| Edmund Timmins | Thomas Rhys Jones |
| Adult Laura | Sarah Lancashire |
| Margaret Brown | Sandy McDade |
| Sally Arless | Sophie Miles |
| Ethel Timmins | Martha Murdoch |
| Dorcas Lane | Julia Sawalha |
| Baby Patience | Milly Taylor |
| Lizzie Arless | Hope Yeomans |
| Pearl Pratt | Matilda Ziegler |
| Producer | Ann Tricklebank |
| Writer | Bill Gallagher |