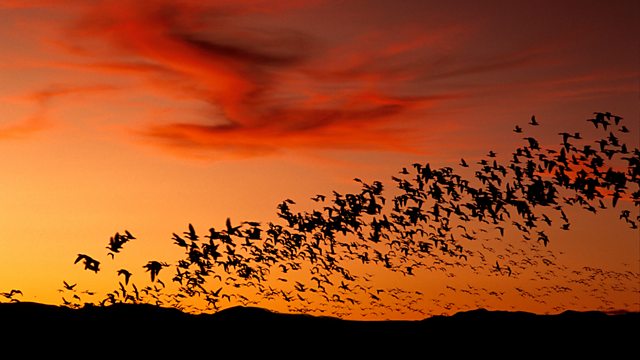 First Flight
Listen in pop-out player
Lionel Kelleway joins Brian Morrell from WWT Caerlaverock well before dawn with only the moonlight to guide them across the flat featureless and frost covered landscape of the Solway Firth. Gradually as a ribbon of light emerges across the Lakeland landscape in the east, feint sounds of geese can be heard drifting on the breeze from somewhere across the mudflat roosting grounds. Increasing light allows eyes to become accustomed to small shadowy skeins of birds drifting to and fro over the mud.
As the light intensifies, goose chatter begins, increasing in volume as more and more barnacle geese awake. As if choreographed by an unseen hand, a huge cloud of geese simultaneously rise from the salt marsh and fill the air as if a single organism, flying across the merse towards Lionel and Brian.
Being out there in the wide expanse of an estuary with thousands upon thousands of geese flying overhead in the half light of an early dawn, is a wildlife spectacle rarely encountered in Britain, but one which will stick in the memory for a very long time.
Last on