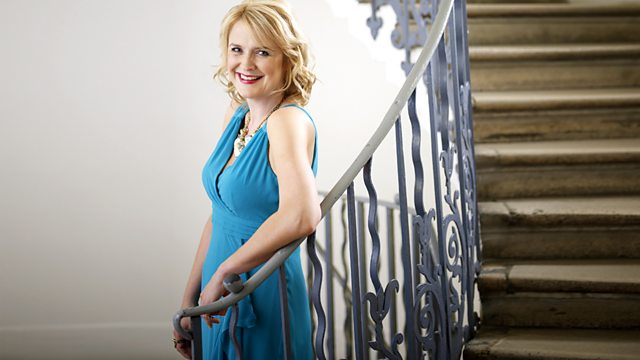 Tuesday - Sarah Walker
Classical Collection with Sarah Walker: this week a selection of music inspired by the warming sun, Handel Oratorios; recordings by Vernon Handley.
Today's highlights include an Irish Rhapsody by Stanford from Vernon Handley, a Group of 3 fishing-inspired songs from Schubert sung by Christa Ludwig, Edith Mathis and Elly Ameling, Handel's ground-breaking Israel in Egypt from John Eliot Gardiner and Bach from Andrew Manze.
10.00
Bach
Concerto for two violins, BWV1060
Andrew Manze & Rachel Podger (violins)
Academy of Ancient Music
Andrew Manze (director/violin)
Harmonia Mundi HMU 907155
10.13
Tchaikovsky
Romance, Op.5
Mikhail Pletnev (piano)
REGIS RRC1354
10.20
Handel
He has his mansion fix'd on high...Hallelujah, your voices raise (The Occasional Oratorio, Act II)
John Mark Ainsley (tenor)
The Choristers and Choir of the The King's Consort
The King's Consort
Robert King (conductor)
HYPERION CDA66961/2
10.28
Farkas
Antique Hungarian Dances
Frosunda Wind Quintet
BIS-CD-136
10.38
Stanford
Irish Rhapsody No.4 in A minor, Op.141
The Fisherman of Loch Neagh and what he saw
Ulster Orchestra
Vernon Handley (conductor)
CHANDOS CHAN7002/3
10.56
Group of 3: Fishing-related songs by Schubert
Schubert
Die Forelle, D550
Christa Ludwig (mezzo-soprano)
Gerald Moore (piano)
EMI CMS764074-2
Schubert
Liebhaber in allen Gestalten, D558
Edith Mathis (soprano)
Graham Johnson (piano)
HYPERION CDJ33021
Schubert
Fischerweise, D881
Elly Ameling (soprano)
Dalton Baldwin (piano)
PHILIPS 420 870-2
11.05
Albinoni
Concerto a cinque in F
Maurice Andre (trumpet)
Bernard Soustrot (trumpet)
Academy of St Martin in the Fields
Sir Neville Marriner (conductor)
EMI CES 569140-2
11.18
Nielsen
Helios Overture, Op.17
Danish Radio Symphony Orchestra
Herbert Blomstedt (conductor)
EMI CZS 569758-2
11.20
Handel
Israel in Egypt, HWV54: excerpt
Monteverdi Choir
English Baroque Soloists
John Eliot Gardiner (conductor)
PHILIPS 432 110-2
11.48
Saint-Saens
Phaeton, Op.39
Philharmonia Orchestra
Charles Dutoit (conductor)
DECCA 414 460-2.
Last on