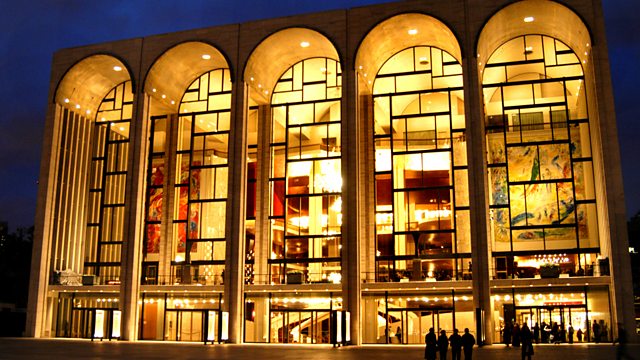 Verdi's Rigoletto
This year's Met season continues with Verdi's Rigoletto, based on Victor Hugo's play 'Le roi s'amuse'. The Duke of Mantua's hunchbacked jester Rigoletto has raised his daughter Gilda in seclusion from the world. When Count Monterone's daughter is seduced by the Duke, Rigoletto mocks him, causing Monterone to curse him. Then Gilda is also seduced by the Duke, and the curse begins to take terrible effect.
Presented by Margaret Juntwait with guest commentator Ira Siff.
Rigoletto, the Duke's jester ..... Giovanni Meoni (Baritone)
Gilda, his daughter ..... Nino Machaidze (Soprano)
Duke of Mantua ..... Joseph Calleja (Tenor)
Sparafucile, an assassin ..... Stefan Kocán (Bass)
Maddalena, his sister ..... Kirstin Chávez (Contralto)
Giovanna, Gilda's nurse ..... Kathryn Day (Mezzo-soprano)
Count Ceprano ..... David Crawford (Bass)
Countess Ceprano, his wife ..... Edyta Kulczak (Mezzo-soprano)
Matteo Borsa, a courtier ..... Eduardo Valdes (Tenor)
Count Monterone ..... Quinn Kelsey (Baritone)
Marullo ..... Malcolm MacKenzie (Baritone)
A Court Usher ..... Joseph Pariso (Bass)
A Page ..... Patricia Steiner (Mezzo-soprano)
Paolo Arrivabeni ..... Conductor
Chorus and Orchestra of Metropolitan Opera.
Last on