Street Cheer

Street Cheer is a mix of street dance and cheerleading and is one of the fastest growing sports for girls and teenagers in the country. At a time when Sport England has just announced its Active Women project to encourage women's participation in sport, Street Cheer is aimed at the age group where young women most often drop out of PE at school, leading to a lifelong pattern of inactivity. It's designed to be affordable, accessible and to appeal to young women who're not attracted by traditional team games.

Street Games

Gorby 80

In March the former Soviet leader and Nobel Peace Prize winner, Mikhail Gorbachev, will be 80. To mark it, a gala fundraising concert is being organised at the Royal Albert Hall in London. The event will be hosted by Hollywood actress Sharon Stone, and will be attended by a host of international politicians and celebrities including John Major, Gerhard Schroeder of Germany, the former governor of California, Arnold Schwarzenegger, and Hugh Grant and Elizabeth Hurley. Mikhail and Raisa Gorbachev's granddaughters, Ksenia Gorbacheva and Anastasia Virganskaya, have been involved in organising and promoting the concert. Jenni Murray will be talking to Ksenia about the concert, her childhood memories of her grandparents and her grandfather's legacy, and to Oksana Antonenko, Senior Fellow at The International Institute for Strategic Studies.

The Gorbachev Foundation

Alison Gangel

Alison's Gangel's autobiographical first novel tells the story of two sisters, Ailsa and Morag, growing up with their hard drinking parents in the poor tenements of Glasgow during the late Sixties. When the father's alcoholism threatens to destroy the family, the girls are sent into care at a children's home away from the city. There Ailsa meets Mr.Shaughnessy, a piano teacher, and her life is set on a different path. The Sun Hasn't Fallen From The Sky, is R4's Book of the Week starting Monday, 24th January. Alison joins Jenni in the studio to talk about her book, a personal tribute to a special teacher.

New Scottish Writer Alison Gangel

Shared Parental Leave

In a speech to the thinktank Demos, the Deputy Prime Minister, Nick Clegg announced the launch of a consultation process on a new properly flexible system of shared parental leave which they aim to introduce by 2015. From April 2011 changes will be implemented, agreed by the last Government, whereby if a mother returns to work before the end of her maternity leave, the father will be able to take the remaining time, up to a maximum of six months. But would men really want to take time off with small children? Jenni is joined by Mrunal Sisodia, an investment banker, who has taken a year off to look after his children, and by Harry Phibbs, journalist and Conservative councillor in the London borough of Hammersmith & Fulham who doesn't support the proposals to extend parental leave.

Children at Funerals: Your Responses

It's easy to know when something we've covered on the programme has
struck a real chord with our listeners. Should children attend funerals was one of the questions under discussion last week. Even before we'd gone off air we were being flooded out with your tweets and emails of reaction. We hear some of your responses.
Woman's Hour Power List 2014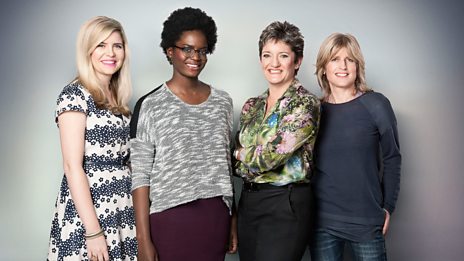 Identifying the top ten game changers operating in the UK today.
Free downloads
Discover cooking techniques and tips to help you perfect your cooking know-how. Jenni Murray and…

Which ten women in the UK have done most to game-change the way power operates in the UK, whether in…

Woman's Hour brings you the big celebrity names and leading women in the news, with subjects ranging…