Add music you love and enjoy it with
Pasty

Traditional Miner's Sweet & Savoury Pasty
from www.cornishpasties.org.uk

Serves 4-6
Prep time 1hr 20 mins (inc. 1hr in fridge)
Cooking time 1hr

Pastry / dough

This is for shortcrust or short pastry (not rough puff or flaky)
Makes four large pasties - 11" (27cm)
- usually with enough leftovers for a 6" (15cm) pasty.

1½ lbs plain flour (680g)

Sift to add air to the mixture.
1 lb Stork margarine (450g). Healthier than lard, & possibly better tasting.
½ pint / 470ml (precise!) cold water Aim to have a small amount of dough left.
½ level tsp salt. Add it to the water.
1 tsp sugar. If you want a sweeter taste to the pastry. Nige didn't!

1. Put the flour into a mixing bowl.

2. Grate the margarine into the bowl using a coarse grater.

3. Mix the two together with the fingers until it looks like breadcrumbs
- do this above the bowl so that air can get into the mixture.

4. Make a pit in the mixture & add some of the salted water & mix it in with the fingers - do not knead, it stretches the dough & excess gluten will develop

5. Continue until the mixture forms a single ball of dough - if too wet, add a little more flour.

6. Put the dough in the fridge for 1hr, as:

(i) it chills the "fat" so that the dough will roll out more easily
(ii) it allows the gluten to soften & relax, making the dough more tender
(iii) it allows the water to spread & make the dough more consistently hydrated.

7. Use this hour to prepare the meat & veg.

Other ingredients

Main course filling - meat & vegetables
Swede/yellow turnip (American: rutabaga). Prepare this first, cut a slice about ¼" (5 mm) thick for each pasty, this is a hard root vegetable needing a sharp knife.

Peel the edge of the slice - a potato peeler is good. Dice it - i.e. cut into ¼" (5 mm) cubes.

Skirt beef ¾ lb (340g) or chuck steak

Trim any fat etc. & cut into pieces about ½" (1 cm) cube & cover.
Onions - one large for each large pasty

Peel & dice or cut into thick cubes & cover.

Potatoes, one big one for each large pasty. Peel & cut into slivers or small slices or dice - your choice!
Do this last because it will blacken if left exposed for too long. Can be left under water if necessary.

Salt

Freshly Ground pepper. White pepper for taste & black pepper for scent.

Butter or substitute. A knob of butter on the meat keeps the pasty moist after cooking. No butter gives a dry pasty, too much gives a leaking pasty. I use as much as for a slice of bread = a moderately heaped tsp.

"Afters" - dessert filling

2 Cooking apples. ½" (1 cm) thick slice per pasty, cored & peeled.
You have to play with the shape for yourself, sometimes using bits!

Cinnamon - good pinch. To taste - I fill the tip of a small teaspoon, added to the apple.

Brown sugar. To cover the apple.
Sultanas, cherries, dried fig, apricot or date.

Sultanas - small handful on top of the apple, other fruits are chopped into approximately sultana-sized pieces. Remove any sultana stalks & de-stone cherries.

Preparing & filling the pasties

Pre-heat oven to 200°C (180°fan) or Gas 6

8. Cut the dough into 4 pieces.

9. Roll one piece into a circle the size of a dinner plate e.g. 11" (27 cm)
- if you can't roll a good circle, use the plate as a template & cut around it, keep the scraps.

10. Lift half of the dough circle over the rolling pin, ready for filling (Nige says make sure you have at least half)

11. Make a small oblong of pastry, wet one edge & press down like a hinge near one end of the pasty: this will form the divider between the two fillings (it is the edge nearest the middle that is wetted & pressed down).

12. Add the meat / vegetable filling:
(i) a layer of potato & season
(ii) a layer of turnip, season
(iii) a layer of meat, season -

plus a knob of butter. The butter is important, without it the pasty will be dry. Use enough on a knife to well-butter a slice of bread. Too much, & the pasty will be wet.

Add a few drops of Worcestershire Sauce to the meat for extra flavour

(iv) a layer of onion, & season. Fold the pastry divider up over the end of the meat/vegetable filling.

13. Add the dessert filling:

(i) starting with the layer of apple
(ii) add the cinnamon & spread it with the back of a teaspoon
(iii) brown sugar
(iv) sultanas.

15. Wet the top edge of the dividing pasty flap & the edges of the pastry dough

16. Close the pasty by lifting the rolling pin & bringing the two edges together - any stretching at this stage leads to shrinkage later

17. Press the edges down with the edge of the hand all round - this thins the pastry & makes for a smaller crust

Confession: Party Stopper

Simon,

Back in the mid 90's and in my prime at the tender age of 25, I
co-habited with a friend of mine in a town somewhere in England. It was a typical single lad's domain, with many silly and rather drunken get-togethers. Some of these would involve the pair of us, plus other
unruly males in post-pub anarchy and loud music. Other times, my easy-going house mate would opt to stay in, and when I eventually staggered in - with half the local nightclub invited back - my live-in chum would be peacefully snoring away, and loud noisy parties would reign for the next two hours, often resulting in him getting up and having fun with us - adopting the 'if you can't beat em, join em' policy.

On the occasions that I refrained from venturing out of the mad house
and had an early night myself, I had a secret weapon for when my housemate staggered in with a posse of partygoers. I'd be awoken with the stereo blaring, the bass vibrating through my pillow, and the sound of very loud worse-for-wear males from below. Because I had a solid background in electronics and knew how the house was wired, I came up with an idea. I made a super gizmo from a plug, which I proudly labelled the 'Party Stopper', and which I kept secretly under my bed.

My 'party stopper', as its name suggests, cut off the sockets, lights, and everything as soon as it was plugged in! What an ingenious device! (However, it goes without saying that the phrase 'please do not try this at home' should be used here Simon.)

I'd lay there grinning as you could hear the rabble trying in vain to restore the power, but as long as my little device remained in the socket, everything would just stay off!

This course of action was used on at least 10 occasions – most memorably, the night after the World cup final – ruined, New Year's Eve – ruined - and numerous occasions when he thought he could impress a woman – all ruined. I also believe that my actions contributed to 2 promising relationships being prematurely terminated. Anyway, every time, it resulted in the rowdy gang leaving the house, and my house mate trudging upstairs to his room, to reluctantly sleep off his hangover a little earlier than planned – and alone. In the morning, I simply unplugged the device from beside my wall, and then asked him what his problem was, as I reset it, casually put the electric kettle on, and listened to his tales of frustration.

I seek forgiveness for my selfishness – for enjoying my own noisy parties without a hitch - from my house mate - who suffered this pain many times - and of course you and the team.

Regards,

Gordon

...NOT FORGIVEN!
Watch Simon's Edinburgh Book Club Special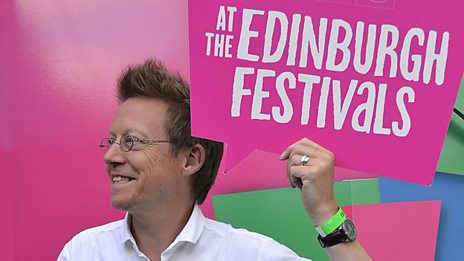 See Simon host a special Radio 2 Book Club live at Potterrow.
Podcasts
Simon Mayo considers listeners' darkest secrets and worst misdemeanours, as they beg for his…

The best bits of Simon Mayo Drivetime on BBC Radio 2, with star guests, audience interactivity,…