Legacy of the Pill

This week's Woman's Hour drama, The Year They Invented Sex, looks at the medical trials of the contraceptive pill in Birmingham in 1960 and their effect on three fictional women who take part. We find out more about Lella Florence who organised the trial – and discuss the legacy of the contraceptive pill for women with writer Yvonne Roberts and former agony aunt Anna Raeburn.

Woman's Hour Drama

Wanda Jackson - 'First Lady of Rockabilly'

Wanda Jackson is said to be the first woman ever to record a rock and roll song. After making a name on the 1950s country circuit she was persuaded by her friend and tour-mate Elvis Presley to cross over into rock and rockabilly. Her sassy, guitar-toting stage presence marked a distinct break from the buttoned-up style of other female singers of the time, and launched her to international fame. She was recently honoured with a Lifetime Achievement Award at the 2010 Americana Music Awards in Nashville. And she's now produced an album, 'The Party Ain't Over', with White Stripes front man Jack White, covering classic rockabilly, rock and roll, country and gospel tracks.

Wanda Jackson website

Seville Oranges

It's Seville Orange season: famously good for marmalade, Sevilles have been a favourite of the British since the 18th century. But what else can we use them for? Barney Desmazery, food editor of BBC Good Food Magazine, will tell Jane Garvey about some sweet and savoury Seville recipes.

Sticky upside-down Seville sponge

CUTS INTO 10-12 PREP 20 mins COOK 45-50 mins Easy Suitable for freezing

4 Seville Oranges
8 tbsp golden syrup, plus extra to serve, optional
200g/8oz butter, at room temperature, plus extra for greasing
200g/8oz soft brown sugar
200g/8oz self-raising flour
1 tsp baking powder
100g/4oz ground almonds
4 large eggs

1 Heat oven to 180C/160C fan/ gas 4. Finely grate the zest from 2 oranges into a large bowl. Cut the peel and pith from all of the oranges with a serrated knife, and slice quite thickly removing all the pips as you go.
2 Drizzle the syrup evenly over the base of a buttered 23cm round cake tin. There is no need to line the tin and it shouldn't have a loose bottom otherwise the syrup will bubble through. Arrange the best orange slices on top of the syrup and finely chop any that don't fit.
3 Put all the remaining ingredients in the bowl with the zest and chopped orange and beat with an electric hand mixer until smooth. Spoon on top of the oranges, spread lightly and make a deep hollow in the centre of the mix with the back of a spoon to ensure that the cake rises evenly.
4 Bake for 45-50 mins until firm when pressed. Allow to settle for 5 mins before turning out. Drizzle with extra syrup if you like and serve with custard or ice cream.

Seville orange marmalade

MAKES 8 x 450g/1lb jars PREP 45 mins
plus overnight soaking COOK 1-2 hrs
depending on your oranges
Moderately easy

Spotted some Sevilles but can't find the time to make marmalade now? No problem – simply stick them in the freezer, whole, for up to 3 months, then defrost and use as fresh. We tested this marmalade with both fresh and frozen and found that the frozen batch took longer to reach setting point, but was just as delicious.

1kg/2lb 4oz Seville oranges, well
scrubbed and halved
1 unwaxed lemon
2kg/4lb 8oz granulated sugar

1 Squeeze the oranges and keep their juice. Scrape out the pith and pips with a metal spoon, again keeping everything.
Juice the lemon, too, then put the lemon shells, orange pith and seeds into a square of muslin about 30 x 30cm, and tie it with string. Leave the string long – that way you can tie it to your wooden spoon, which will make it easier to lift
out later.
2 Cut each orange shell into 3 petals, then finely shred with a large, sharp knife. Put the peel into a preserving pan, tip in the juices, then sit the bag in the juice. Pour in 2.4 litres/4 pints cold water
and leave to steep overnight.
3 Next day, leaving the bag in the pan, bring the liquid to the boil, then simmer for about 1 hr, or until the peel is soft and translucent and the liquid has reduced by one third. Turn off the heat and lift the muslin bag into a large bowl. Leave the bag until it's cool enough to handle.
4 While you wait, get your jars ready. Wash 8 x 450g/1lb jars (or the equivalent volume larger or smaller jars) in hot, soapy water, then leave in a low oven to dry completely. Keep them warm.
Put a saucer in the freezer at this point, too.
5 Now for the messy bit – I like to don a pair of rubber gloves at this point. Hold the bag over its bowl, and squeeze and pummel it until you've extracted every last drop of juice and gunge through the muslin. This stuff contains the pectin – the crucial ingredient to the perfect set. You can now throw away what's left in the bag and wash the muslin, ready to re-use.
6 Stir the contents of the bowl, plus all the sugar, into the pan. Stir every so often over a very gentle heat until the sugar has completely dissolved. Don't boil before all the sugar has melted.
7 Slowly bring the pan to the boil. After 10 mins boiling, spoon a small blob of marmalade onto the cold saucer. Leave for a few secs, then push the marmalade with your finger. If it wrinkles, it's ready.
If not, boil for 10 mins more then try again. Even if you have a sugar thermometer (look for 105C or where it says 'jam'), I'd still recommend the saucer test. If yours seems to be taking a while don't worry, it can take anything from 10 mins to 45 mins for marmalade to reach setting point, depending on your oranges. Skim
off any scum that comes to the surface in the meantime.
8 Once you've reached setting point, ladle the marmalade into the warm jars and seal. A funnel is really handy if you have one. The marmalade will keep for up to 1 year in a cool, dark place, and for up to a month in the fridge once opened.

Both recipes from BBC Good Food Magazine

Women in Mexico's drug wars

From June last year, Erika Gandara was the only police officer in the Mexican border town of Guadalupe. The rest of the police department had either fled or been killed in the seemingly endless violence that's shaken Mexican civil society since president Calderon declared war on the drug trade in 2006. Then, on Christmas Eve, Erika was kidnapped when a gang of armed men raided her home, and nothing has been heard of her since. As more and more male police officers fall victim to the violence, women have increasingly taken their place. And there's mounting evidence that women are playing a bigger role in the drug gangs, too. The BBC's Mexico correspondent Julian Miglierini talks to Jane about women's involvement in Mexico's drug wars, and how they're changing the face of the conflict.
Woman's Hour Power List 2014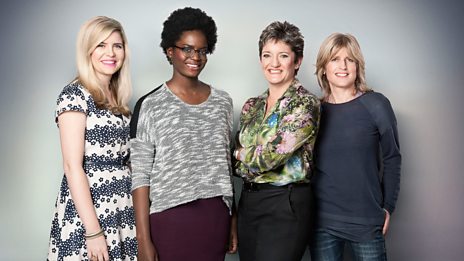 Identifying the top ten game changers operating in the UK today.
Free downloads
Discover cooking techniques and tips to help you perfect your cooking know-how. Jenni Murray and…

Which ten women in the UK have done most to game-change the way power operates in the UK, whether in…

Woman's Hour brings you the big celebrity names and leading women in the news, with subjects ranging…