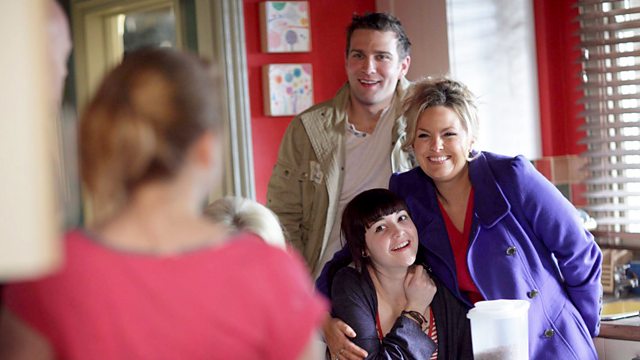 03/01/2011
When Kat and Alfie are asked if they want to see Tommy, Kat runs away. Back at the Vic, Mo sits with her. Alfie looks for Kat, when he gets back to the pub Billy and Julie are clearing up. Kat tries to get the pub ready to open. She's not ready to say goodbye to Tommy, but Alfie gently persuades her they have to return to the hospital. When Kat sees the baby's body she's insistent 'that's not my baby'.
Ronnie's upset and feels horribly guilty. She can't bring herself to breastfeed the baby. Jack's besotted with the baby he thinks is his new son and heads to the shop to buy some formula. Ronnie throws away the moses basket and blankets James died in.
Roxy tells Jack and Ronnie that Tommy died. Jack thinks they should go and pay their respects, Ronnie refuses. Ronnie attempts once more to breastfeed, but can't face it. She gives the baby and a bottle to Jack – she can't do this. Ronnie cries. Jack calls the midwives, asking if someone could visit them.
Tanya decides she wants to live nearer her daughters and demands an immediate viewing of Roxy's house. Greg's unsure; he thought the Square had nothing but bad memories for Tanya. Tanya insists it will be different; she'll be with him this time. Abi and Lauren are thrilled, but Vanessa's less keen on having Tanya as a neighbour. Max thinks Tanya just can't keep away.
Everyone's upset by the news of Tommy's death. Syed looks after the cafe so Bianca can spend time with her kids. After accidentally pulling a phone number out of his pocket, a guilty Christian admits to Syed he kissed the piper. Syed's hurt and angry; he left everything for Christian and today should have been his wedding anniversary.
Last on
Credits
| Role | Contributor |
| --- | --- |
| Kat Moon | Jessie Wallace |
| Alfie Moon | Shane Richie |
| Midwife David | Daniel Abelson |
| Ronnie Branning | Samantha Womack |
| Jack Branning | Scott Maslen |
| Roxy Mitchell | Rita Simons |
| Charlie Slater | Derek Martin |
| Mo Harris | Laila Morse |
| Tanya Branning | Jo Joyner |
| Greg Jessop | Stefan Booth |
| Max Branning | Jake Wood |
| Vanessa Gold | Zoe Lucker |
| Lauren Branning | Jacqueline Jossa |
| Abi Branning | Lorna Fitzgerald |
| Bianca Butcher | Patsy Palmer |
| Syed Masood | Marc Elliott |
| Christian Clarke | John Partridge |
| Billy Mitchell | Perry Fenwick |
| Julie Perkins | Cathy Murphy |
| Patrick Trueman | Rudolph Walker |
| Morgan Jackson-King | Devon Higgs |
| Writer | Pete Lawson |
| Executive Producer | Bryan Kirkwood |
| Director | Mickey Jones |