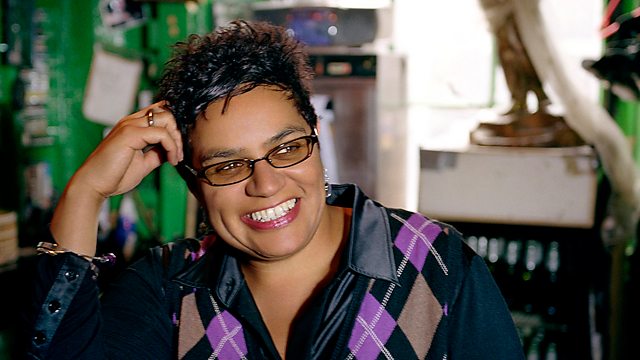 Poet Jackie Kay and Hattie Jacques TV drama
Listen in pop-out player
Jackie Kay talks to Mark Lawson about Fiere, her latest collection of poetry which is a companion piece to last year's Red Dust Road, her memoir about the search for her Nigerian and Scottish Highland birth-parents.
The film Blue Valentine intercuts the romantic beginning of a couple's relationship with its painful end six years later. Both Ryan Gosling and Michelle Williams have Golden Globe nominations for performances that include controversial sex scenes, and the film is tipped for Oscar success. Stella Duffy reviews.
Ruth Jones stars in a new TV drama about the comedy actress Hattie Jacques, telling the story of how her happy marriage to actor John Le Mesurier was blown apart by a secret sexual liaison with her young driver. Graham McCann, the biographer of John Le Mesurier, reviews.
A new exhibition The Land of Light and Promise: 50 years Painting Jerusalem and Beyond features depictions of The Holy Land by the Czechoslovakian-born artist Ludwig Blum. Exhibition curator Dr Dalia Manor discusses the artist who depicted the ancient Promised Land and the New Palestine.
And a selection of your many suggestions for the next sentence in the Front Row chain story, announced last night.
Producer Jerome Weatherald.
Last on