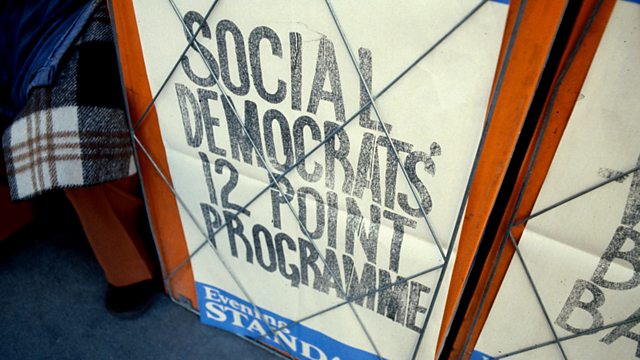 Breaking the Mould
Shaun Ley recalls the dramatic rise and fall of the SDP during the 1980s. The party never quite made a breakthrough, but did it change British politics? Is the SDP's legacy its impact on the other main parties?
In January 1981 four former cabinet ministers announced that they were about to leave the Labour Party. Over the subsequent two years, dozens of MPs joined them; it appeared as if the fledgling party might, as Roy Jenkins put it, "break the mould". But the electoral breakthrough never happened, partnership with the Liberals ended in acrimony, and in a final humiliation, the SDP polled fewer votes than the representative of the Monster Raving Loony Party in a by-election. It was a failure.
Or was it? In 'Breaking the Mould', Shaun Ley draws on sound archive and fresh contributions with key players to consider whether the SDP has had a bigger impact than is generally recognised. Was the SDP "a Labour saving device", because it gave Labour a severe shock, without which it would never have modernised sufficiently to win office again? And did the SDP's ideas eventually triumph, not just in the Liberal Democrats, but also in the counsels of New Labour and even inside Conservative Party headquarters? Was the triumph of the SDP exemplified by the formation of the Coalition Government in 2010? - the present Government includes former SDP-ers, and not just among the Liberal Democrats.
Producer: Rob Shepherd.
Last on