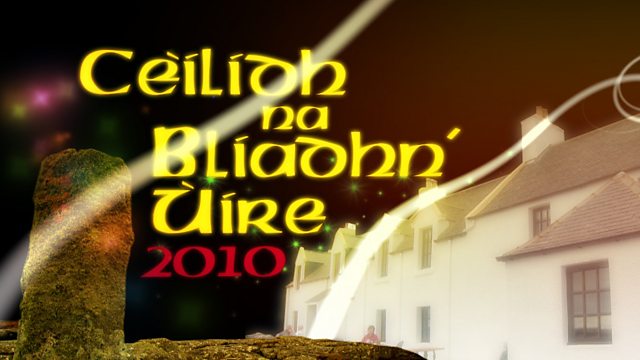 Ceilidh na Bliadhn' Uire 2010 (Hogmanay Ceilidh 2010)
Hosts John Carmichael and local Uist lass Seasaidh Lexy throw open the doors of Polochar Inn in South Uist for a live Hogmanay cèilidh. Say farewell to 2010 and a big Gaelic fàilte (welcome) to 2011. Joining in the celebrations are a wealth of Gaelic singers and Gàidhealach musicians - internationally renowned singer Cathy Ann MacPhee will be travelling from Canada to join in the party; Christine Primrose flies the flag for Lewis and Skye; and local Uist singers Paul McCallum, Gillebride MacMillan and Linda MacLeod will be joining in. Mànran, fronted by Norrie MacIver and Gary Innes, are the house band and local musicians Na Deasaich, Iain MacDonald, John Alex MacKay and Seonaidh MacIntyre will be raising the roof with their cèilidh sets. Stars from the world of Gaelic broadcasting will appear with special messages. Renowned broadcaster Morag MacDonald makes a guest appearance to share her thoughts on the BBC Year of Song. And as ever, Seasaidh Lexy will be doing a turn. We hope to have a live first foot with BBC Scotland's Hogmanay show to wish a happy new year to Jackie Bird, Phil Cunningham and their guests.
The Uists are the perfect location for an informal and lively cèilidh, and a warm welcome and musical festival awaits from John, Seasaidh, our audience and guests, live in Polochar. Fàilte oirbh uile!
Bidh fear an taighe, Iain MacIlleMhìcheil, agus a' chaileag Uibhisteach Seasaidh Leacsaidh a' cur fàilte chridheil oirbh, beò à taigh-òsta Phol a' Charra, Uibhist a Deas airson Cèilidh na Bliadhn' Ùire 2010.
Am measg nan rionnagan bidh Cathy Ann Nic a' Phì, Cairistiona Primrose, Gillebrìde MacIlleMhaoil, Pòl McCallum, Mànran, Linda NicLeòid, Na Deasaich, Iain Dòmhnallach, Seonaidh Ailig MacAoidh, Seonaidh Mac an t-Saoir agus Mòrag Dhòmhnallach.
Bidh iad cuideachd a' dol air cheilidh air Jackie Bird agus Phil Coineagan ann an Glaschu.
Last on
New Year's Day 2011
15:55