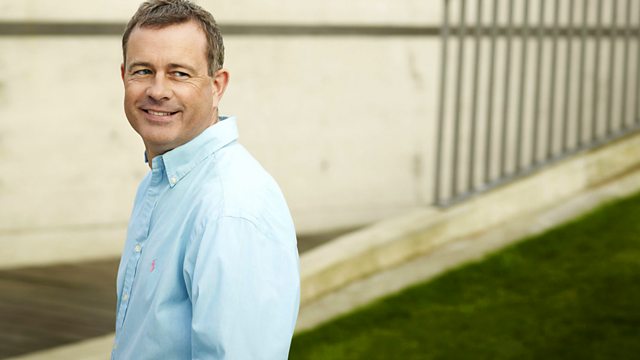 Thursday - James Jolly
With James Jolly. Classic recordings and works influenced by Mozart including today a group of three Mozart paraphrases and Tchaikovsky's Suite No.4, also known as 'Mozartiana'.
Today's highlights include Beethoven's String Quartet in A, Op.18 No.5 performed by the Gewandhaus Quartet, a group of three Mozart paraphrases, an extract from Rossini's Il Turco in Italia featuring Cecilia Bartoli and Tchaikovsky's Suite No.4 for orchestra, otherwise known as Mozartiana.
10.00
Haydn
The Seasons, extract from Winter -
nos 38 and 39: 'Erblicke hier, betorter Mensch' / 'Dann bricht der grosse Morgen an'
Barbara Bonney (soprano)
Anthony Rolfe Johnson (tenor)
Andreas Schmidt (bass)
Monteverdi Choir
English Baroque Soloists
John Eliot Gardiner (conductor)
Archiv 431 818-2
10.10
Chopin
Variations in B flat on 'La ci darem la mano'
Nikolai Demidenko (piano)
Helios CDH55181
10.26
Beethoven
String Quartet in A, op.18 no.5
Gewandhaus Quartet:
Frank-Michael Erben (violin)
Conrad Suske (violin)
Volker Metz (viola)
Jurnjakob Timm (cello)
Membran / NCA 60139
10.58
Today's Group of 3 is a collection of Mozart paraphrases
Gelinek
'Air des mysteres d'Isis'
Thalberg
'Lacrimosa'
Franz Liszt
'Ave verum corpus'
Cyprien Katsaris (piano)
Sony SK 52 551
11.09
Hummel
Rondo Brillant on a Russian Folk Theme, Op.98
Howard Shelley (piano and conductor)
London Mozart Players
Chandos CHAN 10216
11.27
Rossini
Il turco in Italia - 'Credete alle femmine' from Act 2, Scene 7
Michele Pertusi (Selim)
Cecilia Bartoli (Fiorilla)
Chorus and orchestra of La Scala Milan
Riccardo Chailly (conductor)
Decca 458 924-2
11.32
Tchaikovsky
Suite no.4 in G for orchestra, Op.61 ('Mozartiana')
Philharmonia Orchestra
Carl Pini (violin)
Michael Tilson Thomas (conductor)
Sony 82876-88807-2.
Last on