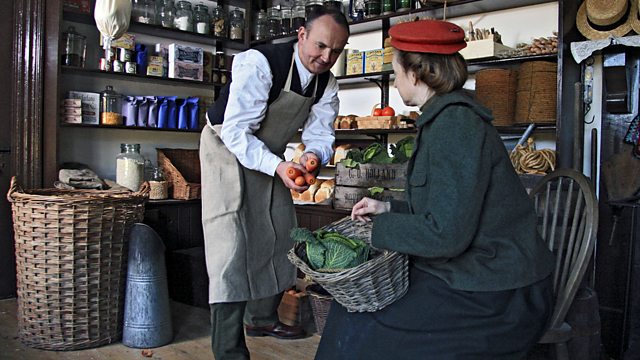 It is February and archaeologists Alex Langlands and Peter Ginn and historian Ruth Goodman approach the halfway point in their year on the Edwardian Farm. To mark the occasion this episode explores one single day in a typical Edwardian farmer's life.
Incorporating a remarkable cache of letters written in the 1900s in a cottage at Morwhellham Quay, 'A Day in the Life' reveals the hidden stories of how ordinary rural Edwardians got by.
We see how Edwardians prepared for the day when they got up in the morning - from struggling into a corset and Edwardian hair-styling, to shaving and what they used to brush their teeth.
Through the day we follow the team's routine - managing the animals; re-stocking the feed-store; tending the land; caring for an injured goose that's been attacked by a fox; going shopping; receiving a visit from an eccentric travelling salesman; and a football match against the Plymouth Argyle legends played under strict Edwardian rules - which means no offside, no red or yellow cards, and wearing very, very heavy boots. And in between, of course, there's breakfast, lunch, dinner and a visit to the local pub to round off the day.
Last on
Credits
| Role | Contributor |
| --- | --- |
| Producer | Stuart Elliott |
| Director | Stuart Elliott |
| Executive Producer | David Upshal |