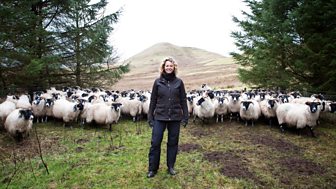 Lambing Live
Kate Humble and Adam Henson follow the life and death drama of lambing.
On iPlayer
This programme is not currently available on BBC iPlayer
On TV
There are no upcoming broadcasts of this programme
Last on
Fri 28 Mar 2014 21:30
BBC Two Wales only
Lambing Live - Series 3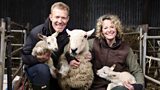 Kate Humble and Adam Henson follow the life and death drama of lambing, live from a sheep farm in the Scottish Borders.

Around 16 million lambs are born in the UK every year, making lambing the biggest and busiest event in the farming calendar. Each spring our fields fill up with ewes and their new lambs - a seasonal feature of our landscape but also a reminder of a way of life that's shaped our country and our countryside.

Sheep farming is big business but it's also a gamble. For farmers the stakes are high. Sheep prices go up and down and you never know if your hard work is going to pay off. Farming is a twenty-four hour, seven days a week job. There are plenty of challenges, but with those challenges can come rewards. From the glimmer of hope as a hypothermic lamb is nursed back to life, to the nail biting nerves as the auction hammer finally falls, it's a roller coaster ride that demands dedication and determination.

BBC Two's Lambing Live opens the door to this incredible world. In spring 2010 Kate Humble and Adam Henson got their wellies muddy on the Beavan family farm in South Wales. The following year they headed for the hills in Cumbria to meet the Marstons - three generations who have made their lives in the remote and sometimes harsh world of hill farming. 
In 2014 Lambing Live returned for a third series. After a devastating spring in 2013 and a very wet and windy winter, the life and death drama of lambing was more of a gamble than ever before. 
The series began by revisiting our farming families from previous series to explore their connection to the land before heading to Scotland to meet a few of the farmers making a living North of the border, including this year's Lambing Live family; the Dykes.
Kate and Adam then had their shepherding skills put to the test as they broadcast live from the Dykes' farm in the Scottish Borders.