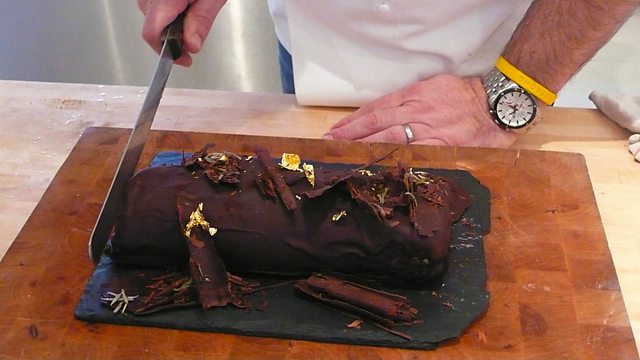 Alternative Christmas Cakes
Listen in pop-out player
Panettone and chocolate logs - Sheila Dillon embraces two of the cakes replacing our "traditional" Christmas cakes on our Christmas tables, and ponders what what we mean by traditional when it comes to Christmas cakes.
Panettone is a traditional Italian Christmas cake. John Dickie, Professor of Italian Studies at University College London and author of "Delizia! A History of the Italians and their Food" traces the history of this highly industrialised product from its Milanese origins, and the manufacturing of this "tradition". Reporter Dany Mitzman visits the Corsini Biscotti panettone factory in Tuscany where panettone is made in the traditional artisan style, using a mother yeast, slow proving, and cooling tipped upside down to allow the dome shape to set naturally, without additives. Their panettone is sold in through the Sainsbury's Taste the Difference range. But you can make your own - Fred Manson returned from an Andrew Whitley breadmaking course clutching a panettone recipe, and has been making his own ever since.
As a teenager Sheila Dillon's Christmas culinary rebellion took the form of baking a bouche de noel, the buttercream sculpted chocolate log believed to originate in France, and still produced by the hundred in smart patisseries today. Yule logs are now a popular range for both patiseries and supermarkets in the UK. This year's BBC Radio 4 Food and Farming Award Food Champion, baker Richard Bertinet, baked Sheila his own take on the classic cake, adorned with gold leaf and powdered cabernet grape, and food historian Ivan Day tells its history in the UK.
Producer: Rebecca Moore.
Last on