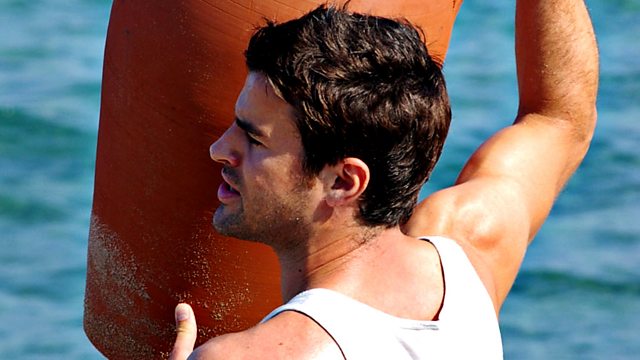 Only six teams remain in the competition for the third stage of Drop Zone. This week the teams land on the Greek island of Milos, where presenter Steve Jones briefs them on the bizarre physical and mental challenges that await them. Of the six teams who've made it this far, only five will make it to the next Drop Zone. The last team to reach the chopper will be left behind.
The relentless heat and harsh terrain of Milos make the challenges faced by the teams even tougher. In 'Buried Treasure', they have an exhausting swim out into the Aegean Sea and dive to a depth of 3 metres to retrieve keys from urns which have been embedded in the sea floor. Back on the beach, they find that only six of the keys will open the padlocks to reveal the clues they need in order to move onto the next challenge.
In their second challenge - called 'Fishing for the Gods'- the teams must memorise the names and attributes of numerous ancient Greek gods. The first two teams to answer the questions correctly and get three points win a night on a luxury yacht, whilst the losers have to spend the night on the beach. The final challenge involves a traditional Greek wheelbarrow, a donkey, a number of smashable plates and a high level of skill...
Will the soaring temperatures prove too much for The Fashionistas? Can family team Pony Club keep up with the pace? Will Cambridge undergraduates, The Geeks, stop thinking long enough to actually get anywhere? Of the six teams, only five will ever make it to the next destination: Turkey.
Last on
Credits
| Role | Contributor |
| --- | --- |
| Presenter | Steve Jones |
| Executive Producer | Gary Hunter |
| Director | Leo McCrea |