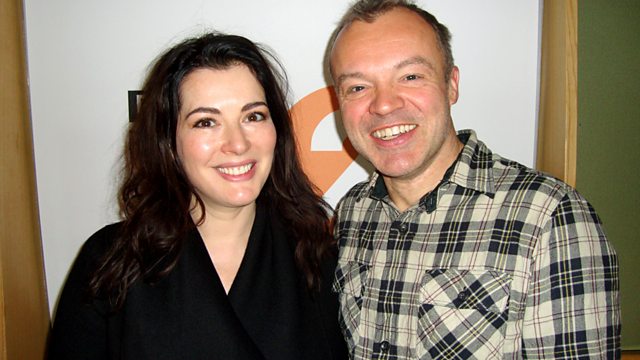 Nigella Lawson cooks up an aural treat with Graham
In a snow-covered studio 6A this week, Graham had less Macy Gray and more Nigella than expected after the weather kept Ms Gray away. So Ms Lawson popped in early and brought some food for the team, which is just as well as they may be snowed in for some time...
In the latest thrilling installment of Grill Graham, Norton and McErlane offered advice to Debbie, who isn't able to experience uni life to the full because of her caring duties, and to Liz, whose lazy family make the Christmas meal a misery.
Sue Taylor from Kidlington in Oxfordshire suggested Marty Robbins 'El Paso' as the final 'Tune with a Tale' of 2010 and Jo Chandler in Exeter exclaimed 'I Can't Believe It's Not Better' about Nick Kamen's 'Each Time You Break My Heart'.
Last on