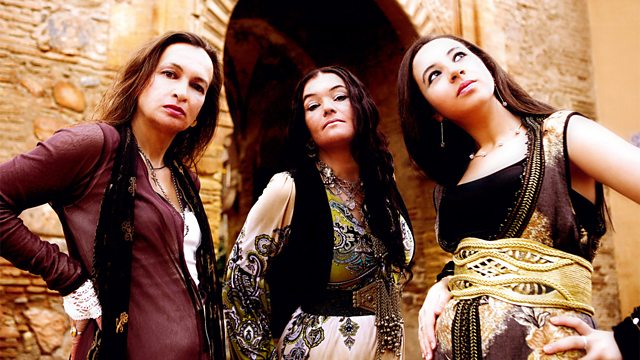 21/12/2010
Al Andaluz Project to make UK debut live on BBC Radio Scotland
Inspiring musical fusion of Christian, Jewish and Muslim traditions
A heady fusion of Christian, Jewish and Muslim cultures: Al Andaluz is music for our souls with a message for our times - a sensational cross-cultural collaboration between Europe's most inspired traditional music ensembles, bringing together the ancient sounds of the Christian, Sephardic and Arabic Middle Ages. Gorgeous harmonies and haunting voices delve into traditions that date back to a period of religious tolerance and cultural fusion in Moorish-ruled Spain. The Al Andaluz region of the Iberian Peninsula was famous for its scholarship and prospering artistic diversity, a true meeting point for Europe's three leading cultures. Its rich musical legacy provides the passionate rhythms and evocative, heart-wrenching melodies at the core of the Al Andaluz Project's sound.
Three superb female singers - Mara Aranda of Valencia's acclaimed L'Ham de Foc and Imam Al Kandoussi and Sigi Hausen of the esteemed Munich ensemble Estampie - are joined by a luxury backing ensemble of European folk and early music instrumentalists, as well as an Indian tabla player and a Russian multi-percussionist. Together they create a stunning musical tapestry, and a deeply inspirational symbol of unity that is particularly timely during the festive season.
Al Andaluz make their UK debut on December 21st when they perform an exclusive hour-long concert set live for Mary Ann Kennedy's Global Gathering on BBC Radio Scotland. Scottish folk luminary Mary Ann Kennedy hosts the live set from Studio One at Glasgow's Pacific Quay headquarters: this is a truly remarkable event in the folk and world-music calendars.
To precede the concert, music journalist Jan Fairley joins Mary Ann to further brighten the winter solstice with a blaze of the best in contemporary flamenco, and there's great music celebrating cultural crossovers around the world.
Last on