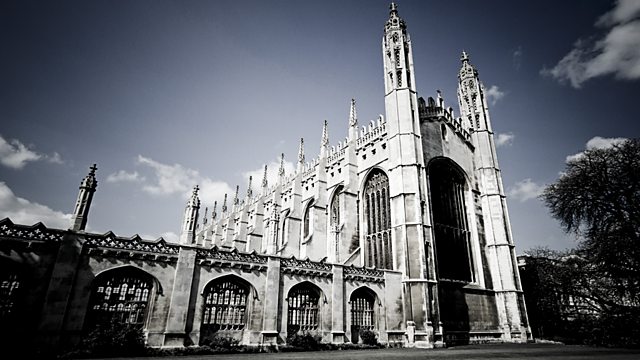 25/12/2010
The Festival, recorded yesterday in the candlelit Chapel of King's College, Cambridge, marks for many people around the world the beginning of Christmas. It is based around nine Bible readings which tell the story of the loving purposes of God. They are interspersed with carols old and new, sung by the world famous Chapel Choir who also lead the congregation in traditional Christmas hymns.
Once in royal David's city (descant Cleobury)
Bidding Prayer read by the Dean
This is the truth sent from above (arr Vaughan Williams)
First lesson: Genesis 3, vv 8-19 read by a Chorister
Adam lay ybounden (Ord)
A Virgin most pure (arr Cleobury)
Second lesson: Genesis 22 vv 15-18 read by a Choral Scholar
In dulci jubilo (arr de Pearsall)
If ye would hear the angels sing (Tranchell)
Third lesson: Isaiah 9 vv 2, 6-7 read by a Representative of the Cambridge Churches
Sussex Carol (arr Ledger)
God rest you merry, gentlemen (arr Willcocks)
Fourth lesson: Isaiah 11 vv 1-3a, 4a, 6-9 read by a Representative of the City of Cambridge
A tender shoot (Goldschmidt)
Det är en ros utsprungen (arr Sandström)
Fifth lesson: Luke 1 vv 26-35, 38 read by the Master over the Choristers
Hymne à la Vierge (Villette)
Sunny Bank (Hurford)
Sixth lesson: Luke 2 vv 1, 3-7 read by the Chaplain
Mariä Wiegenlied (Reger)
The holly and the ivy (arr Nixon)
Seventh lesson: Luke 2 vv 8-16 read by the Director of Music
While shepherds watched (descant Cleobury)
Illuminare, Jerusalem (Weir)
Eighth lesson: Matthew 2 vv 1-12 read by the Vice-Provost
Christmas Carol (Rautavaara - first performance, commissioned by King's College)
Ding! dong! merrily on high(arr Wilberg)
Ninth lesson: John 1 vv 1-14 read by the Provost
O come, all ye faithful (arr Cleobury)
Collect and Blessing
Hark! the herald angels sing (descant Willcocks)
Organ voluntaries:
In dulci jubilo BWV 729 (Bach)
Prelude & Fugue in B (Dupré) [broadcast on Radio 3 only]
Director of Music: Stephen Cleobury
Organ Scholar: Ben-San Lau
Producer: Simon Vivian.
Last on