Add music you love and enjoy it with
Timings (where shown) are from the start of the programme in hours and minutes
00:00

John Fahey

Silent Night, Holy Night

The New Possibility – John Fahey's Guitar Soli Christmas Album / Christmas with John Fahey Vol.II, Takoma/Ace CDTAK8912

00:02

Merry Christmas, Mr Lawrence – soundtrack from the original motion picture, Virgin Records CDV2276

00:04

Odetta

What month was Jesus born in?

Christmas Spirituals, Ace/Vanguard Masters VMD79079

00:06

Global Magic, MW Records MWCD11

00:10

Walkmen

While I Shovel the Snow

Lisbon, Bella Union BELLACD260

00:14

Shankar Family & Friends

Shankar Family & Friends - I am missing you (reprise)

George Harrison & Ravi Shankar – Collaborations, Warners 8122797921

00:18

Artist: MusikFabrik

Rebecca Saunders – Stirrings Still, Wergo WER66942

00:30

J S Bach arr. Uri Caine

The Carol Variation

Artist: Kettwiger Bach Ensemble, David Moss (vocals), Uri Caine (keyboards)

Bach/Uri Caine – The Goldberg Variations, Winter & Winter 910 054-2

00:33

Mario Lucio

Egal Ego (feat. Ralph Tamar & Mario Canonge)

Kreol, Lusafrica 024082

00:36

The Elves

White/Hot Christmas

Rhythm & Blues Christmas, Ace Records CDCHM1128

00:39

Artist: Accentus, Concerto Köln, Laurence Equilbey (conductor)

Nuit Sacrée, Naïve V5216

Late Junction collaboration session – Ty, Jason Yarde & Hannah Peel

00:43

Ty, Jason Yarde & Hannah Peel

Come Wander With Me

Artist: Jason Yarde (soprano sax), Hannah Peel (music box/vocals)

BBC session recording, 7 December 2010

00:46

Ty, Jason Yarde & Hannah Peel

Colour Telly For Christmas

Artist: Ty (narrator), Hannah Peel & Jason Yarde (sound effects and backing voices)

BBC session recording, 7 December 2010

00:54

Ty, Jason Yarde & Hannah Peel

Winter Rubadub

Artist: Jason Yarde (sax & electronics), Hannah Peel (trombone), Ty (drum machine)

BBC session recording, 7 December 2010

01:00

Ty, Jason Yarde & Hannah Peel

Come Wander With Me (revisited)

Artist: Ty (spoken word), Hannah Peel (music box), Jason Yarde (multi-tracked saxes)

BBC session recording, 7 December 2010

01:03

Pretty Paper, CBS 83878 (vinyl LP)

01:05

Baramgot

Beingbing

Into the Light – Music of Korea, Korea Arts Management Service

01:14

Tunng

With Whiskey

…And then we saw land, Full Time Hobby FTH088CDA

01:17

Sound the All-Clear, Innova 750

01:21

Erno Dohnanyi

Aria, con moto – No.1 in C from Three pieces for piano, Op.23

Artist: Martin Roscoe (piano)

Dohnányi – Piano Music, ASV CD DCA 863

01:26

Errol Linton's Blues Vibe

Roll On Tomorrow

Mama Said, self-released

01:31

横田進

12 Days 12 Nights (featuring Nancy Elizabeth)

Mother, Skintone LCD73

01:37

Pura Fé

Grammah Easter's Lullaby

Full Moon Rising, Dixiefrog DFGCD8674

01:40

Simon Limbrick

Lateral

Hammer, Marimbo 6

01:43

Robert Wyatt, Gilad Atzmon, Ros Stephen

What a Wonderful World

What a Wonderful World CD single, Domino RUG388CD
L-R Jason Yarde, Hannah Peel, Ty

See more photos from this session

Ty, Jason Yarde & Hannah Peel Session

For this end-of-year session, we invited rapper and poet Ty, saxophonist/composer Jason Yarde, and singer-songwriter Hannah Peel to record together for the first time. Max Reinhardt proposed that they devise material around the theme of Italo Calvino's book 'If on a winter's night, a traveller'. When they met at Maida Vale Studio 3, Hannah had a new arrangement of an old song from The Twilight Zone (Come Wander With Me) for her music box (she punches the holes in the paper strip by hand), to which Jason added soprano sax. Ty came up with a Christmas story with a twist, that developed into a mini radio play with sound effects and acting from the trio. Jason asked Hannah to get her trombone out for a groove-based number he called Winter Rubadub, and for their last number, they reworked Come Wander with spoken word from Ty and a lush orchestration of multi-tracked saxes.
Late Junction on BBC Playlister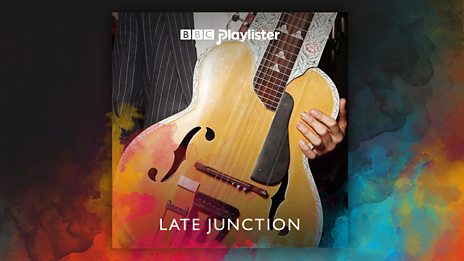 Selections from Radio 3's eclectic showcase of music from around the world.
Podcast
Late Junction's unique studio sessions bring together musicians who have never recorded together…