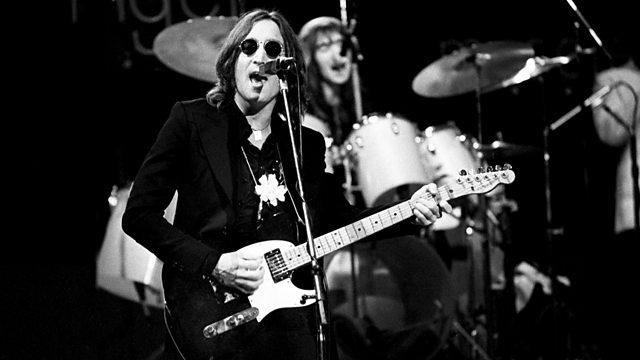 Susan Sarandon explores the major moments of John's life that occurred in the city he called home from the early 70s, when he and Yoko moved there following the break up of The Beatles, until his death on 8 December 1980. Featuring input from friends and family, who lived and worked with Lennon during his New York years, this programme highlights the career defining moments that were influenced by the Big Apple.
It was on John's first visit to New York in 1964, during The Beatles first US tour, that he was introduced to Bob Dylan. John was inspired by Dylan's lyrical creativity and, after Bob introduced him to cannabis, Lennon's music would never be the same again. John and Yoko returned to New York whenever possible during the Beatles hectic final years and eventually decide to move there permanently in September 1971.
They immediately found themselves at the epicentre of political activism. They became friends with the high profile activists Jerry Rubin and Abbie Hoffman and began making public appearances protesting the Vietnam War and the imprisonment of Angela Davis and John Sinclair. Fearing Lennon's influence and believing that he had the ability to humiliate President Richard Nixon, the FBI began investigating John and Yoko's every move in an effort to find grounds on which to deport him.
It was against this highly charged political backdrop that John and Yoko began recording their album, Sometime In New York City, with an agenda to protest against the social injustices they observed in the United States. With Phil Spector producing, and accompanied by members of the Plastic Ono Band, the album was completed in March of 1972 and remains the most overtly political recordings Lennon ever recorded.
At the request of their friend Geraldo Rivera, shortly after the album was released, Lennon agreed to headline two charity concerts to benefit the Willowbrook Home, a facility for learning disabled children. Both concerts were filmed and recorded, and eventually released as Live In New York City. Not only would these performances go down in history as one of the few times John and Yoko ever performed material from the Sometimes In New York City album, but they would unfortunately prove to be John Lennon's last and only full-length public concerts following the breakup of The Beatles.
In 1975 John retired from music to spend time as a "house husband", raising his son Sean at their Manhattan apartment, before returning to the studio with Yoko in 1980 to record the album Double Fantasy. But on 8 December, John was shot four times in the back by Mark Chapman, who'd asked the former Beatle for his autograph only hours before he killed him. After John's murder, Yoko wrote in a letter to the New York Times: "Please don't blame New York for John's death - what happened could have happened anywhere."
Other major New York moments explored in this documentary include performing on the Ed Sullivan Show; launching Apple Corps; fighting for a green card; writing and recording Fame with David Bowie; recording at Madison Square Gardens with Elton John; working with Phil Spector on the Imagine album; the 'War Is Over' billboards; and the creation of John and Yoko's charitable foundation in New York.
Contributors include David Bowie, Elton John, Jann Wenner, Bob Gruen, Klaus Voormann, Allan Tannenbaum, Larry Kane, Alan White, Elliot Mintz, Jack Douglas, Jonathan Cott, May Pang, Michael Lindsay-Hogg, Ethan Russell, Yoko Ono and Julian Lennon, as well as excerpts from interviews John recorded in New York.
Last on
More episodes
Previous
You are at the first episode