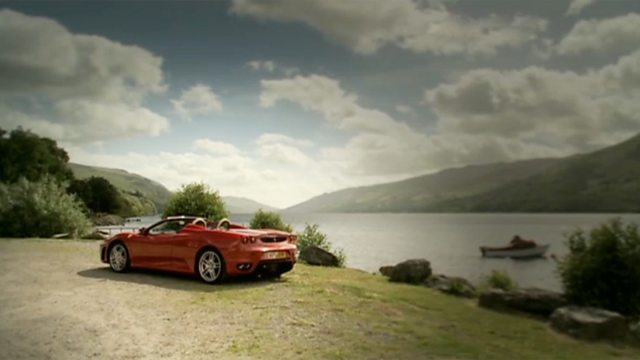 An t-seachdain seo, tha sinn a' dol còmhla ri sgioba sàr-dhràibhearan Poilis a' Mheadhan. Tha Louise a' faighinn leasan air modhan dràibhidh nam poilis agus an uairsin tha i a' cur air an t-solais ghuirm 's i air fear de na mòr-rathaidean as trainge anns an dùthaich.
Tha Fiona anns na Hearadh far a bheil i a' dràibheadh VW Beetle, a dh'fhalbhas nas luaithe na Porche 911. Nuair a choinnicheas iris an fhear a thog einnsean cumhachdach a' chàir, chì i fear ris nach robh dùil aice. Cò th' ann ach fear a b' àbhaist a bhith a' cluich nan drumaichean anns a' chòmhlan punc as fheàrr leatha, na Buzzcocks.
Agus air dhòigh air choireigin, tha ùine aig Fiona gus am Ferrari F430 F1 Spyder breàgha fheuchainn dhi fhèin...cha robh i a' gearain idir! Tha aig na preasaintearan againn ri beagan obrach a dhèanamh an t-seachdain seo ann an Rèisean Craicte, ach an tèid aca air?
The team joins forces with Central Scotland's police advanced driver training team. Louise is given a one to one lesson on police driving techniques and gets the chance to switch on the blue light for a high speed chase along one of Scotland's busiest motorways.
Fiona is on Harris where she drives a VW Beetle which can outrun a Porche 911. When she meets the man who built the car's super charged engine, she's in for a big surprise. He turns out to be the ex drummer of one of her favourite punk rock bands, the Buzzcocks.
And somehow, Fiona also finds the time to put the stunningly good-looking Ferrari F430 F1 Spyder to the test...nice work if you can get it! Our presenters get a taste of real work in this week's Wacky Races, but are they up to the job in hand?
Last on