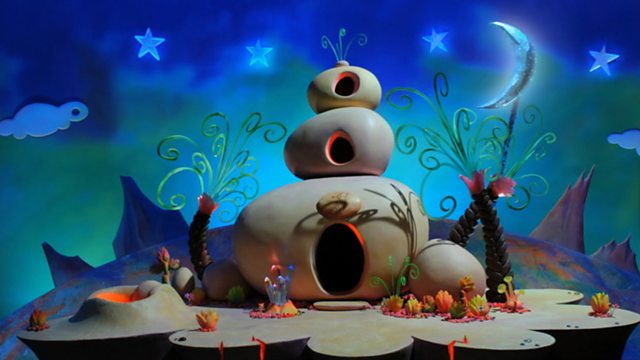 Ga Iarraidh air ais (Want it Back)
'S e an co latha breith aig Goban a th' ann 's tha Igam Ogam trang a' dèanamh prèasant dhith, prèasant a tha cho snog 's nach eil Igam Ogam ro dheònach dealachadh ris. Ged a tha i ga thabhann do Ghoban chan eil fad ann gus an iarr i air ais e. Gun i a' faighinn a toil fhèin, tha Igam Ogam a' goid a' phrèasant air ais fhad 's a tha Goban na cadal ach ged a tha i a' faighinn a chrùn bhrèagha air ais 's ann a chailleas i caraid mar thoradh. Feumaidh i sealltainn do Ghoban, agus dhan a h-uile duine eile, gu bheil i duilich airson a mi-mhodh.
Animated series for precocious pre-schoolers.
It is Goban's birthday and Igam Ogam makes her a beautiful present. But Igam Ogam thinks her creation is so pretty she would like to keep it for herself. When Goban refuses to part with it, Igam Ogam sneaks up on her while she is napping and steals it, leaving Igam Ogam with the tiara but missing her friend, who decides not to invite her to her birthday party.
Last on