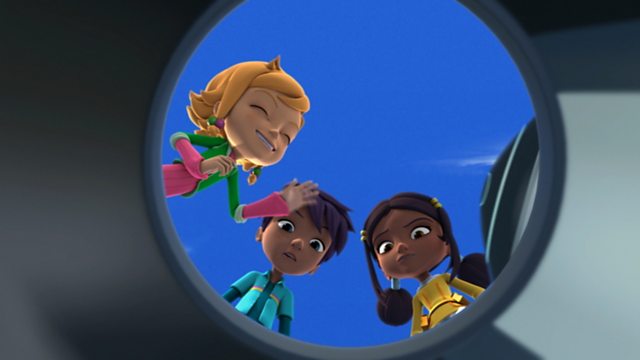 Spiorad san t-Sàibhear (Pipe Dreams)
Tha trì deugairean a' sabaid eilthirich le cuideachadh bho nighean àraidh agus a seanair.
Tha obair mhòr a' dol ann am Baile Shimidh 's a' chomhairle a cur air dòigh siostaman saibhear a bhaile. Fhad 's a tha an obair seo a' dol tha Mhgr Fuster a toirt a chlas aige a choimhead air na saibhearan 's tha an MBC air an clisgeadh gun lorg iad na tunailean siubhal acasan fhad 's a tha iad uile fon talamh. Tha cuisean a' fàs nas duilghe buileach nuair a thuigeas iad gur e eilthireach a th' ann an obraiche a' chomhairle 's e am beachd am baile gu lèir a thoirt an greim.
Three teens battle alien invaders.
Work begins on renewing the town's sewer system, tearing up underground tunnels and back gardens. Mr. Fuster takes his class sightseeing in the sewers. The MBC realise that their classmates might discover their travel tunnels which intersect with the sewers. However things get worse when the strange 'roadworker' turns out to be an alien who tries to suck the entire town into captivity.
Last on