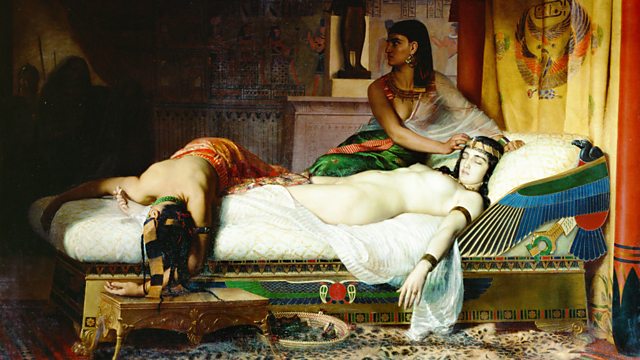 Cleopatra
Listen in pop-out player
Melvyn Bragg and his guests discuss Cleopatra. The last pharaoh to rule Egypt, Cleopatra was a woman of intelligence and charisma, later celebrated as a great beauty. During an eventful life she was ousted from her throne and later restored to it with the help of her lover Julius Caesar. A later relationship with another Roman statesman, Mark Antony - and Cleopatra's subsequent death at her own hands - provided Shakespeare with the raw material for one of his greatest plays. Today Cleopatra is still an object of fascination, her story revealing as much about the Roman world as it does about the end of the age of the Pharaohs.With:Catharine EdwardsProfessor of Classics and Ancient History at Birkbeck, University of LondonMaria WykeProfessor of Latin at University College LondonSusan WalkerKeeper of Antiquities at the Ashmolean Museum at the University of OxfordProducer: Thomas Morris.
Last on
Featured in...
Historical themes, events and key individuals from Akhenaten to Xenophon.

Shakespeare - Londons triumphal arches

Browse the Ancient Rome era within the In Our Time archive.