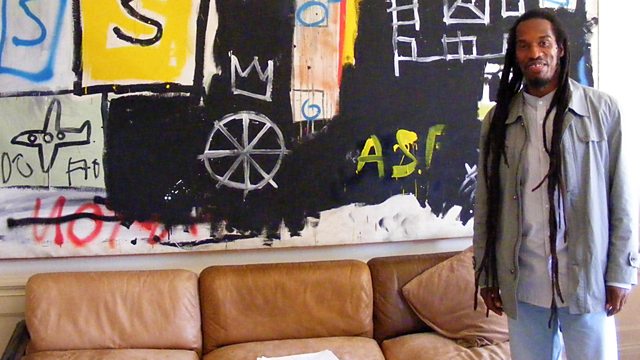 Decoding Basquiat
Fifty years after the birth of one of America's most enigmatic visual artists, Benjamin Zephaniah explores the poetry in Jean Michel Basquiat's text-filled canvasses.
By the time he died in 1988 Basquiat had achieved a unique feat: rising from graffiti artist to international star. Basquiat's prodigious talents and 'cool status' made him a hero of the converging disco, hiphop and no-wave music scenes.
Still a teenager he found himself rubbing shoulders with the likes of Madonna and David Byrne in Studio 54. By 1983 Basquiat had given up graffiti and was one of the most sought-after art commodities on the planet, surrounded by a string of sometimes contradictory mythologies: bohemian, ladies man, genius, drug addict, poet, inarticulate.
From his use of symbols like the crown and the copyright sign, to his references to medical terms, jazz records and Greek myths; text is a consistent, and often overlooked aspect of his work.
In Decoding Basquiat, poet Benjamin Zephaniah travels to Basquiat's hometown of New York to read between the lines of his graffiti-inspired paintings. Speaking with gallerists, musicians and graffiti writers who knew Jean Michel, can we use the text in his work to get beyond the Basquiat myth? Was Jean Michel purposefully trying to confuse us?
Contributors include: music journalist Greg Tate, gallerist Annina Nosei, art historian Richard Marshall and Basquiat's longterm girlfriend Suzanne Malouk.
Producer: Joby Waldman
A Somethin Else production for BBC Radio 4.