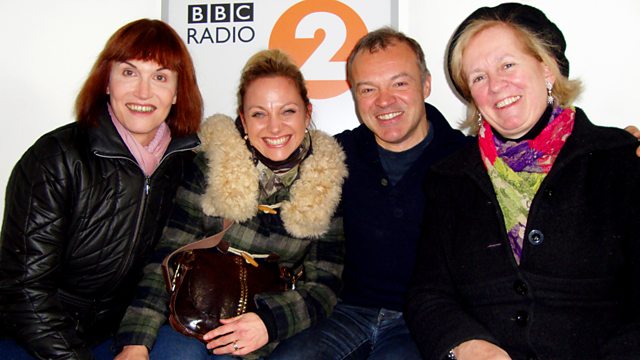 With Fascinating Aida plus Corrie's Katherine Kelly and Jonathan Harvey
Corrie stars from behind and in front of the screen - Becky McDonald AKA Katherine Kelly and Jonathan Harvey - popped by for a chat about the new Coronation Street album and the live episode. And satirical cabaret act Fascinating Aida talked about their career and performed an amazing radio friendly version of 'Cheap Flights'.
Paul in the Black Country chose this week's 'I Can't Believe It's Not Better' song which was 'Videotheque' from Dollar, and Helen Pennington picked Kenny Rogers' 'Ruby Don't Take Your Love To Town' for 'Tune with a Tale'.
'Grillers' Graham and Maria helped Clark in the Cotswolds who wasn't sure whether he should ask his girlfriend's father for her hand in marriage. Becky in Plymouth, who had fallen out with her colleague Mark in March has recently been contacted by their former mutual friend Nicola; she wanted to know why now? An ulterior motive perhaps?
Email the show anytime: graham.norton@bbc.co.uk.
Last on