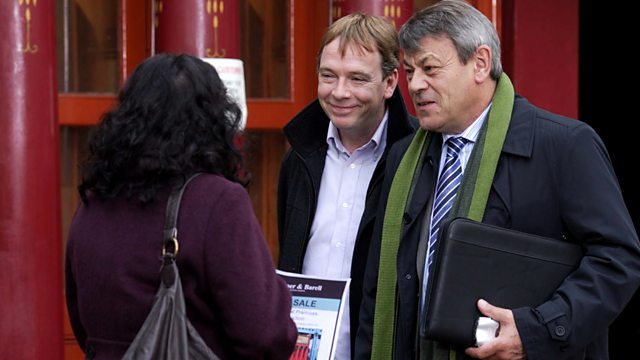 22/11/2010
Walking in on Connor and Carol kissing, Glenda decides it's time she found a man of her own. Shirley realises Phil's taken £5,000 of the stolen money and wants to know why. Connor meets Phil, Glenda and Shirley see them together. Billy tries to persuade Roxy that Julie didn't steal her money. Glenda tricks Billy into confirming that Phil took the money, then leaves Phil a note 'I know'. Shirley wants to know what Phil's up to, he shows her a house he's bought for them – he's done a few dodgy deals, increased their money. Shirley's thrilled. They celebrate in the Vic, telling Roxy they're only renting the house. Glenda arrives, Phil thinks she's playing games with him, but she insists she's not after his money – she's after him...
Tamwar reassures his parents that he's not a transvestite and nothing happened when he and Afia were alone. Zainab and Masood want to meet Afia properly. Afia accidentally tells Ian that the Masoods are thinking of buying the Argee Bhajee. Zainab arrives at the restaurant to meet the estate agent and is aghast when she finds Ian there. Masood is still set against buying the restaurant, he and Zainab are arguing about it when Tamwar and Afia arrive. Zainab quizzes Afia and is thrilled when Afia says her father's a surgeon. Tamwar worries, wondering why Afia lied to his parents – her father's actually a GP.
Lauren's still in a foul mood. The Slaters, Max and Ryan are all worried about Stacey. Alfie decides to hold a charity butlers and maids auction. With Stacey gone, the Vic needs a new barmaid, Janine puts herself forward. Kat tells Alfie Stacey's phoned, she sounded really scared and made Kat promise not to tell anyone where she is.
Last on
Credits
| Role | Contributor |
| --- | --- |
| Vanessa Gold | Zoe Lucker |
| Phil Mitchell | Steve McFadden |
| Shirley Carter | Linda Henry |
| Max Branning | Jake Wood |
| Ryan Malloy | Neil McDermott |
| Janine Malloy | Charlie Brooks |
| Roxy Mitchell | Rita Simons |
| Kat Moon | Jessie Wallace |
| Alfie Moon | Shane Richie |
| Ian Beale | Adam Woodyatt |
| Mo Harris | Laila Morse |
| Tamwar Masood | Himesh Patel |
| Afia Khan | Meryl Fernandes |
| Glenda Mitchell | Glynis Barber |
| Billy Mitchell | Perry Fenwick |
| Zainab Masood | Nina Wadia |
| Masood Ahmed | Nitin Ganatra |
| Lauren Branning | Jacqueline Jossa |
| Connor Stanley | Arinze Kene |
| Carol Jackson | Lindsey Coulson |
| Bianca Butcher | Patsy Palmer |
| Heather Trott | Cheryl Fergison |
| Mr Atherton | David Cann |
| Writer | Christopher Reason |
| Executive Producer | Bryan Kirkwood |
| Director | Gwennan Sage |