Add music you love and enjoy it with
Light Years - The Very Best Of ELO, Epic

History Of Modern, 100% Records, 2

Light Years - The Very Best Of ELO, Epic

BIG SCREEN BELTER

Jack Wild, Mark Lester & Ensemble

Consider Yourself

Oliver! The Ultimate Gift Set, Sony BMG

U2

Sweetest Thing

(CD Single), Island

Mika

Relax, Take It Easy

(CD Single), Casablanca

The Beatles

Got To Get You Into My Life

The Beatles - Revolver, Parlophone, 13

GOLDEN OLDIE

Billy J.Kramer & The Dakotas - EP Col, See For Miles

(CD Single), Major Records, 1

East 17

Stay Another Day

East 17 - Steam, London

I Am...Sasha Fierce, Columbia, 1

My Girl (Original 1992 Film S/Track), Epic

Petula Clark

Don't Sleep In The Subway

Million Sellers Vol.6 - The Sixties, Disky

Dancing In The Street (Various Artis, Universal Music Tv

Some Kind Of Trouble, Atlantic, 1

GOBSMACKERS #1

Boston

More Than A Feeling

Rock Of America (Various Artists), Trax Label

GOBSMACKERS #2

Chicago

If You Leave Me Now

The Heart Of Chicago, Reprise

And Then She Kissed Me Vol.1 (Various, Debutante

Ray Davies ft Jackson Browne

Waterloo Sunset (2010)

See My Friends
You Run Your Life, Don't Let It Run You!

Today's show was dedicated to anyone whose plumbing is already looking like it's not going to make Christmas!

Today's show starred:

Bob Richardson from South Yorkshire who chose the Big Screen Belter

Anne Marie Peffer from East Renfrewshire are preparing for their Christmas Shopping Night!

Steve & Denise Driscoll from Hertfordshire who are celebrating 30 years of wedded bliss!

Lynne Del-Pinto from Lancashire is gearing up for her big 6-0

Findlay Cameron from Redbourne who put a guy on the bonfire at Beavers

Adam Kemp from Beverley who is singing and dancing in a show

Denise Bloom from Grandsmoor who chose the Golden Oldie

Gareth Hydes, Pudsey's full-time minder and Big Cheese at Children In Need was today's Mystery Guest

Elaine Hutchinson from Glasgow who chose the Gobsmackers

TV Presenter Jake Humphrey told us all about the Formula 1 result at the Abu Dhabi Grand Prix

Father Brian D'Arcy gave us reason to Pause for Thought

Pause For Thought

From Father Brian D'Arcy, a Catholic Passionist Priest:

"You said earlier Chris that it was a good weekend which helped to lift our spirits. I agree. I was delighted that Aung San Suu Kyi, Burma's Nobel laureate was freed after 15 years of House's arrest. It proves your should never give up hope.

I was asked recently to give a short talk to ten young people who were finding it difficult to motivate themselves after they lost their jobs. It was an impossible challenge really, but I decided to present them with seven short, sharp, easily remembered, bullet points which I called the 7Ups.

Brighten Up. Don't deny what has happened to you but remember the positive points too. You're young; you're gifted; you're bright – so brighten up.

Dress up. The best way to improve your looks is to put a smile on your face. It costs nothing. Be alive; groom yourself; present your best side. What you wear on the outside helps you on the inside.

Stand up. You have opinions; you're articulate; you have convictions. So stand up for them and don't be a shrinking violet.

Reach Up. Don't settle for the lowest options. Set your sights high and adjust them if you have to. That way you'll have a chance of fulfilling your potential. If you aim low you'll reach the bottom – and run the risk of staying there.

Listen up. Maybe you should learn to shut up and pay attention to the real world. Be alert to what's on offer rather than blindly insisting on what you want.

Lift up. Lift up your spirits. Lift up your hearts. Lift up those around you. Lift up your gaze. Remember what Job said in the Bible: "The Lord gives. The Lord takes away. Blessed be the Lord."

Look Up. Keep your head up. Look forward to a better life and a better future. And by the way, Look up to the Lord; He'll give you hope, courage and eventually a job you'll love.

Be like Aung San Suu Kyi. She never gave up. She kept her hopes up; and now she's lifted us all up."
BBC Playlister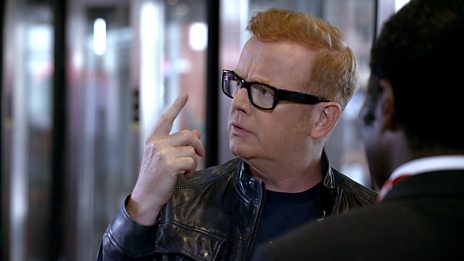 Chris has a song stuck in his head - but what is it? That's why he needs BBC Playlister!
500 WORDS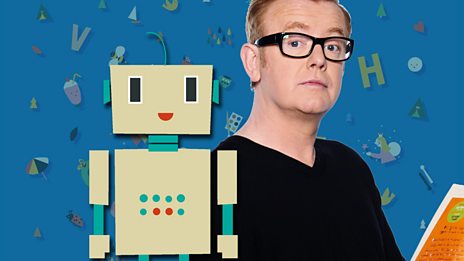 Featuring celebrity videos and top writing tips!
Free download
Catch up with the latest Breakfast fun with Chris Evans. Hear the best stories and the biggest…