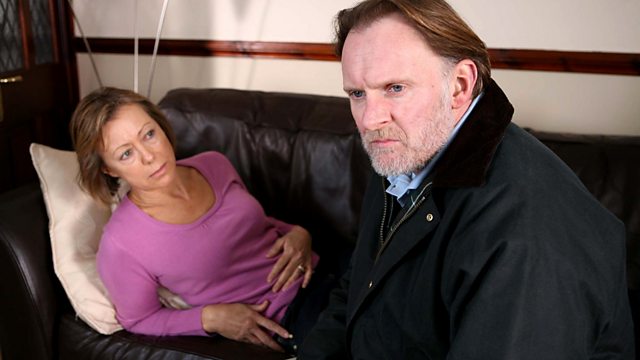 Jean is about to turn sixty, and has left a school reunion in a huff; no one at the reunion knew who she was, but they all looked drop dead gorgeous. Has she aged so much she is now unrecognisable? Jean shows daughters Nicola and Lindsay photos from the party, and they enjoy spotting the cosmetic surgery - nose job, boob job, botox. Jean is shocked as the penny drops, and then intrigued.
At a clinic, a nervous Jean tries her first bit of botox. Husband Frankie can't get his head round it, but because she's still so upset he finds himself agreeing to pay for some more treatment, injectable fillers. And then Jean tells Frankie she wants a partial tummy tuck. He is flabbergasted, but she can't understand why he is protesting. She argues that it's not like they can't afford it, as there's money in the rainy day fund. "Not any more", says Frankie, but he won't say where it's gone.
Frostiness fills the house for a few days, then Frankie goes to apologise. He goes to hug Jean. She recoils and, getting a glimpse of her stomach, Frankie realises she has had the tummy tuck done regardless. Too angry to speak, he turns round and walks out of the house.
After several days apart it's clear that both Frankie and Jean are missing each other, but neither will make the first move. Frankie comes home to escort Jean to her 60th birthday party. He has no intention of making up with Jean, though; he's doing it for the girls. So is she. They argue, as Jean pushes Frankie for the truth about the rainy day money. He reveals that he had bought them a surprise 5-star second honeymoon in Malta.
Frankie talks about their first honeymoon, when they were two nervous young kids about to go on the biggest adventure of their lives. He's honest, heartfelt - and romantic. Jean is gobsmacked, and then tearful. It's time to go the party - together.
Last on
Credits
| Role | Contributor |
| --- | --- |
| Jean | Jenny Agutter |
| Frankie | Robert Glenister |
| Lindsay | Nicola Stephenson |
| Nicola | Lisa Faulkner |
| Stylist | Michelle Tate |
| Tom | Tom Lloyd-Roberts |
| Executive Producer | Colin McKeown |
| Producer | Colin McKeown |
| Director | Len Gowing |
| Writer | Lyn Papadopolous |