Add music you love and enjoy it with
Huey Lewis & The News - Fore!, Chrysalis

Some Kind Of Trouble, Atlantic, 1

The Very Best Of Brenda Lee Vol.2

Brothers In Arms 20th Anniv Edition, Vertigo

Manfred Mann

Pretty Flamingo

Ages Of Mann, Polygram Tv

Dusty- The Silver Collection, Philips

James Morrison

Broken Strings (feat. Nelly Furtado)

(CD Single), Polydor, 1

Jackie Wilson

I Get The Sweetest Feeling

Time For Love (Various Artists), Truetrax

That's Country (Various Artists), EMI

The Trammps

Hold Back The Night

(Single), Buddah Records, 14

Illuminations, Warner Bros, 1

The Best Of The Pointer Sisters, RCA

Sunny Afternoon - Sound Of The 60's,V, Old Gold

(CD Single), Warner Bros, 1

The Rolling Stones - Forty Licks, Abkco

Rick Astley

Never Gonna Give You Up

Rick Astley - Whenever You Need Someb, RCA

The Next Voice You Hear - Jackson Bro, Elektra

The All Time Greatest Movie Songs, Columbia/Sony Tv

Fantastic 80's - 3 (Various Artists), Sony Tv/Columbia

And I Write The Songs (Various Artis, Debutante

(CD Single), 157 Records, 1

Now 1983 - The Millennium Series, EMI

JLS

Love You More

(CD Single), Epic, 1

Keane

Somewhere Only We Know

(CD Single), Transcopic Records

The Walker Brothers

The Sun Ain't Gonna Shine Anymore

The Best Of, Fontana, 3

Wham!

Wake Me Up Before You Go Go

Fantastic 80's Disc 1 (Various Artis, Columbia
Pause For Thought

From Alison Murdoch, a Tibetan Buddhist:

"I've just had the fun of organising a surprise night out for my husband's birthday, and by luck one of our favourite comedians was doing a show in London's West End. As we've both been working really hard recently, it felt like a few hours of laughter was just the tonic we needed. Afterwards, I slept better than I've done in weeks.

As you probably know, there's increasing evidence for the health benefits of laughter. It relaxes tense muscles, increases blood flow, and stimulates the immune system. In the 1960s, the writer and academic Norman Cousins prescribed himself Marx Brothers movies as a treatment for heart disease, and there's now a whole medical discipline – called gelotology – devoted to the subject. A recent study at a California university confirmed that even the anticipation of humour – that feeling you get when you settle into the sofa for your favourite comedy show – can decrease stress levels.

If laughter is a key to physical well-being, what about our spiritual well-being? Despite all the jokes about the priest, the imam and the rabbi, religion tends to be seen as serious business. Perhaps that's a mistake. The Dalai Lama and Desmond Tutu are not only the most inspiring religious leaders I've ever come across, but also a constant source of fun and laughter.

They seem to understand that laughter is more than just a feel-good factor. To have a laugh with someone – never at them – brings us closer than words can say. Laughter also helps us chip away at our pride and self-importance, and open up to new experiences. When we have a sense of humour failure, it usually means we're taking ourselves too seriously, and losing the capacity to listen and learn. Think of David Brent in The Office! In contrast, Buddhism suggests that loosening up on our sense of self, and letting go of habits and judgements, is the key to a more satisfying and compassionate life.

As the American author Mark Van Doren said, 'Nothing in man is more serious than his sense of humour.'"
BBC Playlister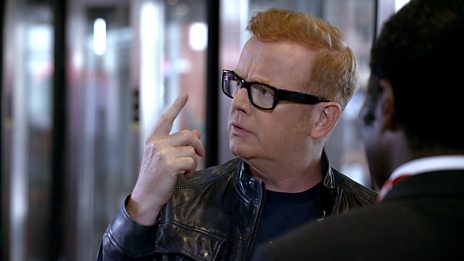 Chris has a song stuck in his head - but what is it? That's why he needs BBC Playlister!
500 WORDS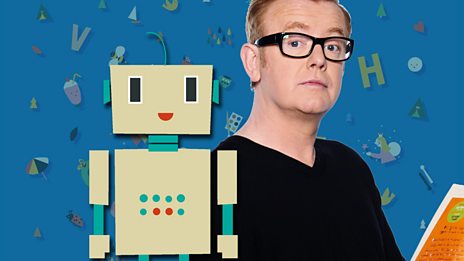 Featuring celebrity videos and top writing tips!
Podcast
Catch up with the latest Breakfast fun with Chris Evans. Hear the best stories and the biggest…