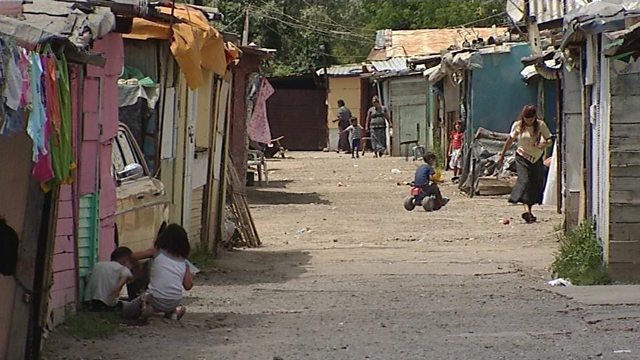 Tha Roseanna Nic a' Phì - a tha gu math eòlach air a bhith strì as leth a coimhearsnachd ann an Alba, an luchd-siubhail - a' gabhail cuairt dhrùidhteach a Kosovo, son suidheachadh coimhearsnachd Roma Mitrovica fhaicinn.
As dèidh dhaibh a bhith air an ruaigeadh bho an dachaighean aig àm a' chogaidh 10 bliadhna air ais, chaidh mòran dhiubh a chur ann an campaichean faisg air Mitrovica. Ach chaidh an togail air talamh far na chleachd am mèinn luaidh as motha san Roinn Eòrpa a bhith. Tha a' mhòr-chuid dhiubh fhathast an sin, agus mòran dhan sluagh, gu sònraichte a' chlann, a' fuiling bho phuinnseanachadh luaidhe.
Scottish Gypsy traveller , Roseanna McPhee, who has fought passionately for the rights of her community in Scotland, makes an emotional journey to Kosovo to examine the plight of the Roma people in Mitrovica.
Having been forced to flee from their homes during the war 10 years ago, many of them were placed in temporary camps near Mitrovica, but the camps were built on land contaminated by what was Europe's largest lead mine. Most are still there and much of the population suffer from chronic lead poisoning, particularly the children.
Last on