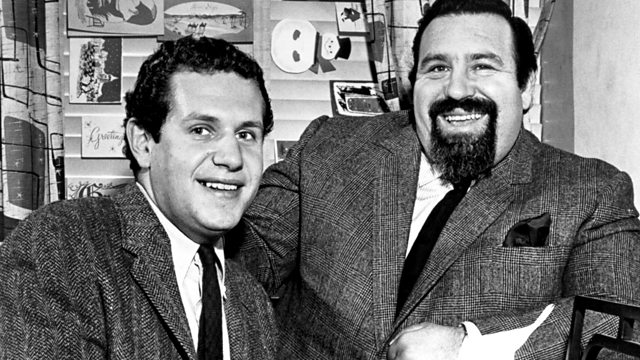 Episode 2
Singer Andy Williams continues to celebrate one of American pop music's greatest ever songwriting teams - Doc Pomus and Mort Shuman - whose songs shaped the musical landscape from the early days of rock 'n' roll, through to the height of the swinging 60s.
Part two picks up the story in 1963, at the height of their fame, and opens with Can't Get Used to Losing You which not only revived Andy Williams' career, but turned out to be one of his biggest hits. As the 60s progressed, the cracks in their partnership began to show. Mort Shuman, seduced by the British Invasion, decided swinging London was more his scene, while Doc, who struggled to walk on crutches and hated travelling, was forced to stay in New York. Mort also collaborated with Philadelphia soul producer Jerry Ragovoy and signed to Andrew Loog Oldham's Immediate Records in the UK. Inevitably, he spent less time with his old partner and the Pomus & Shuman hits began to dry up.
Mort proved to be a huge hit in France, translating the works of Jacques Brel, as well as writing and starring in the stage musical, Jacques Brel Is Alive And Well And Living In Paris, which became a long-running musical staged around the world. He became a star in his own right; his hit single, Le Lac Majeur, remains one of the biggest-selling records in France. Mort was also a prolific composer, scoring 15 soundtracks during his time in France.
While Mort's star was on the ascent, Doc's appeared to be on the decline. In one week, a bad fall left the already crippled Doc confined to a wheelchair, Mort told him he was leaving to go to France for good, and Doc's wife Willi filed for divorce. Following the break up, Doc was forced to turn to gambling as a way to make ends meet, hosting poker schools at his apartment. However, the death of Elvis in 1977 brought about a resurgence in record sales of Presley material, and once again royalties come flooding in.
Doc's daughter Sharyn tells how her Dad remained a much-loved and well respected figure in the music industry, and even Bob Dylan turned to him for help when he had writers block. John Lennon was also an admirer and became friends with Doc when he lived in New York. Lennon and McCartney were also fans of and John Lennon told Doc that they used a musical phrase from Save the Last Dance For Me in their classic, Hey Jude.
We also hear about Doc's philanthropic side; he regularly held writers' workshops for budding musicians in his apartment, which attracted guests like Lou Reed, Robert Plant, Tom Waits and Leonard Cohen. He also worked tirelessly with the Rhythm and Blues Foundation where he successfully fought to recover royalties owed to elderly black singers, who in many cases were living in abject poverty. Doc was the first white recipient of the R&B Foundation's Pioneer Award.
Pomus & Shuman received many accolades and awards and were inducted into both the Songwriters and the Rock and Roll Hall of Fame. Doc also received a Grammy for the B.B. King song There Must Be A Better World Somewhere. Despite their age difference Pomus & Shuman died within months of each other in 1991.
This programme features interviews with Doc's daughter Sharyn Felder, his brother, celebrity divorce lawyer Raoul Felder, Doc's former wife, actress Willi Burke, and Mort Shuman's widow Maria Pia Shuman. Additional contributors include biographer Alex Halberstadt, and Mort's friend, writer Ray Connolly. There is archive material from Pomus and Shuman themselves, as well as singer Dion Di Mucci, Jerry Leiber (songwriter/record producer), lyricist Don Black and Lou Reed. And, of course, there will be the music, including Andy Williams, Elvis Presley, The Beach Boys, Small Faces, Dusty Springfield, David Bowie, Janis Joplin, Dionne Warwick, The Honeydrippers (featuring Robert Plant), Bob Dylan, Michael Buble, and Mort's original demo version of Viva Las Vegas.
Last on