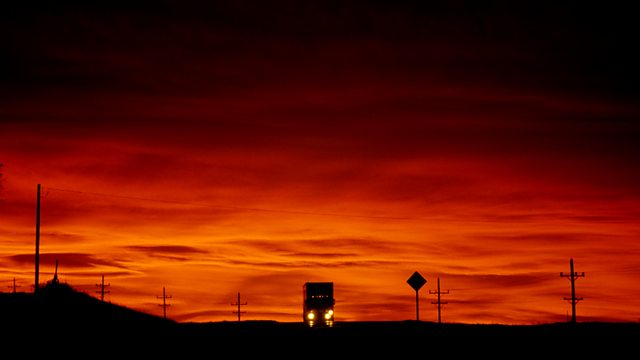 19/11/2010
John Shea's selection includes a recital of French music performed by violinist Janine Jansen.
1:01 AM
Poulenc, Francis (1899-1963)
Sonata for violin and piano
Janine Jansen (violin), Kathryn Stott (piano)
1:20 AM
Franck, César (1822-1890)
Sonata for violin or cello and piano (M.8) in A major
Janine Jansen (violin), Kathryn Stott (piano)
1:48 AM
Machaut, Guillaume de (c.1300-1377)
Rondeau 4: Sans cuer dolens - from Le Veoir Dit
Oxford Camerata , Jeremy Summerly (conductor)
1:53 AM
Ravel, Maurice (1875-1937)
Tzigane - rapsodie de concert for violin and piano
Janine Jansen (violin), Kathryn Stott (piano)
2:02 AM
Ravel, Maurice (1875-1937)
Habanera for violin and piano arr. Fritz Kreisler
Janine Jansen (violin), Kathryn Stott (piano)
2:06 AM
Marais, Marin (1656-1728)
Les Folies d'Espagne
Lise Daoust (flute)
2:16 AM
Brahms, Johannes (1833-1897)
Symphony No.4 (Op.98) in E minor
Stavanger Symphony Orchestra, Lief Segerstam (conductor)
3:01 AM
Nielsen, Carl (1865-1931)
Quartet for Strings no.2 in F minor (op.5)
Paizo Quartet
3:30 AM
Stravinsky, Igor (1882-1971)
Dumbarton Oaks, arr. by the composer for two pianos
James Anagnoson, Leslie Kinton (pianos)
3:46 AM
Brade, William (1560-1630)
Newe ausserlesne Paduanen und Galliarden auff allen musicalischen Instrumenten und insonderheit auff Fiolen lieblich zu gebrauchen (mit 6 Stimmen) (Hamburg 1614)
Hesperion XX, Jordi Savall (conductor)
4:11 AM
Schubert, Franz (1797-1828)
5 Deutsche (German dances) with 7 trios and coda (D.90) originally for string quartet.
Zagreb Soloists
4:26 AM
Offenbach, Jacques [1819-1880] arr. Max Woltag
Belle Nuit (Barcarolle from Contes d'Hoffmann)
Moshe Hammer (violin), Tsuyoshi Tsutsumi (cello), William Tritt (piano)
4:29 AM
Walton, William (1902-1983)
Johannesberg Festival Overture
Stavanger Symphony Orchestra; David Atherton (conductor)
4:38 AM
Vedro, Adolf (1890-1944)
Midrilinnu Mäng (The Magic Bird Game) (1935)
Eesti Koorijuhtide Naiskoor (Female Choir of Estonian Choir Conductors), Ants Söot (conductor)
4:40 AM
Martucci, Giuseppe (1856-1909)
Notturno (Op.70 No.1)
Oslo Philharmonic Orchestra, Nello Santi (conductor)
4:47 AM
Demersseman, Jules August (1833-1866)
Italian Concerto in F major (Op.82 No.6)
Kristina Vaculova (flute) (b.1984 Czech Rep), Inna Aslamasova (piano)
5:01 AM
Vivaldi, Antonio (1678-1741)
Nulla in mundo pax sincera for soprano and orchestra (RV.630)
Emma Kirkby (soprano), Academy of Ancient Music, Andrew Manze (director)
5:08 AM
Debussy, Claude (1862-1918) orch. Brewaeys, Luc (b.1959)
No.2 Voiles (Preludes Book 1)
Royal Flemish Philharmonic, Daniele Callegari (conductor)
5:12 AM
Locatelli, Pietro Antonio (1695-1764) arr. Geert Bierling
Introduttione Teatrale in F major (Op.2 No.4)
Geert Bierling (organ)
5:20 AM
Sjögren, Emil (1853-1918)
Two Lyrical Pieces
Per Enoksson (violin), Péter Nagy (piano)
5:31 AM
Mozart, Wolfgang Amadeus (1756-1791)
Adagio and fugue for strings (K.546) in C minor
Norwegian Radio Orchestra, Andrew Manze (conductor)
5:39 AM
Khachaturian, Aram (1903-1978)
Adagio of Spartacus and Phrygia - from the ballet 'Spartacus' (Act 3)
Ukranian National Radio Symphony Orchestra, Vyacheslav Blinov (conductor)
5:49 AM
Bach, Johann Sebastian (1685-1750)
Partita No 1 in B flat major (BWV 825)
Anton Dikov (piano)
6:09 AM
Enescu, George (1881-1955)
Romanian Rhapsody No.1 in A major (Op.11, No.1)
BBC Concert Orchestra, Barry Wordsworth (conductor)
6:22 AM
Brahms, Johannes (1833-1897)
4 Ballades for piano (Op.10)
Paul Lewis (piano)
6:44 AM
Dvorák, Antonín (1841-1904)
V prirode (In Nature's Realm) (Op.91)
Radio Bratislava Symphony Orchestra, Ondrej Lenard (conductor).
Last on