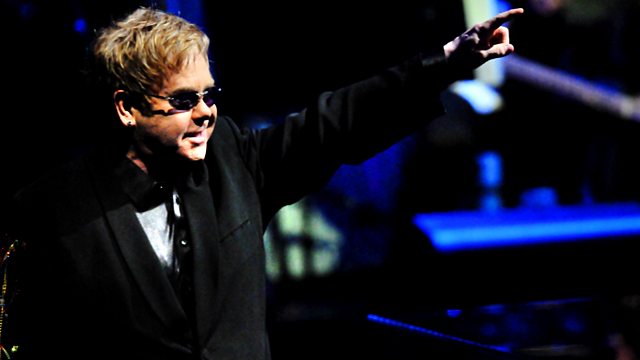 Sir Elton John
The Radio 2 Electric Proms launch with one of the most successful musicians and flamboyant showmen of all time, Sir Elton John, who's won a multitude of awards from Brits, Grammys, Golden Globes to Oscars. For this special event, two pianos take centre stage at The Roundhouse in London. One for Elton, and the other, for an artist who inspired Elton as a young musician; singer songwriter Leon Russell.
Elton is performing tracks from his new studio album, The Union, produced in collaboration with Leon Russell, and he will draw upon an incredible back catalogue of hits amassed during his four-decade career. The concert also brings on board two exciting new names, the critically acclaimed rapper Plan B and young singer-songwriter Rumer, to perform alongside Elton John.
Leon Russell's career runs the musical gamut from Sinatra to the Stones, the Beach Boys and B.B.King. He's written some of the most-covered songs in the pop songbook, and three Stones and two Beatles performed on his debut solo record. He was recently the subject of a Radio 2 profile, which included contributions from Keith Richards, Charlie Watts, Herb Alpert and, of course, Elton John. One of Elton's first champions in the States, even before the young singer-songwriter had set foot in America, he was also one of Elton's greatest influences as a piano player.
Sir Elton says: "I'm delighted to be kicking off this year's Radio 2 Electric Proms, particularly as I'll be joined on stage by Leon who is one of my musical heroes. The performance will feature some very special guests and memorable moments."
The first of three Radio 2 Electric Proms for 2010, tonight's concert is presented by Chris Evans and Jo Whiley and it will be followed by performances from Robert Plant [Friday] and Neil Diamond [Saturday].
R2 Electric Proms: Sir Elton John will be broadcast on BBC Two on Saturday 30 October. A documentary featuring an exclusive interview and highlighting Sir Elton's musical history, career highlights and influences will also be broadcast. Red button and online will also provide exclusive clips and behind the scenes footage from Saturday 30 October.
Last on