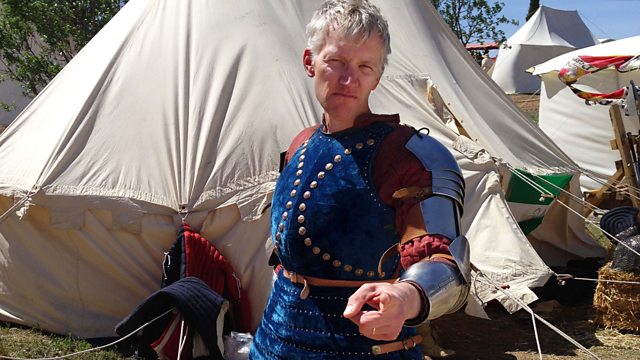 19/10/2010
Listen in pop-out player
Vanessa Collingridge presents Radio 4's popular history programme in which listeners' questions and research help offer new insights into the past.
Some flimsy pieces of paper lovingly preserved by a listener in Kent tell the story of her parents and hundreds of other British civilians who were interned by the Japanese during the Second World War - even though they were living in Chinese Shanghai. Professor Robert Bickers of the University of Bristol explains how a century of Britain's involvement in China and a decade of military tension between Japan and China led to these wartime camps.
A seventeenth century map which apparently marks the spot where two Saxon kings lie buried near Stonehenge prompts a listener to ask whether there are many high status burials close to this iconic archaeological site in Wiltshire. Andrew Fitzpatrick of Wessex Archaeology takes Making History's Richard Daniel on a walk in the landscape around Stonehenge to reveal how nearby burial sites seem to reveal that it was a visitor attraction thousands of years ago as well as today.
Whilst on holiday on the Adriatic coast in Italy a listener spotted a statue to Garibaldi which mention the name of one 'Ugo' or Hugh Forbes, who was this man and what was he doing fighting in the wars of Italian unification he asks? Vanessa talks to Dr David Laven from the University of Manchester who explains that Forbes was one of many Britons who went to fight in Italy. Forbes became a close compatriot of Garibaldi and was even captured by the Austrians defending the great man's retreat. A heavy drinker, Dr Laven explains how, although revered in Italy, Forbes is remembered differently in America where it is said that he was prepared to betray the abolitionist John Brown after training some of his troops.
Finally, Vanessa travels to Tameside near Manchester where a Making History listener has volunteered to transcribe the handwritten records of a local hospital. After several weeks working on the entries for the 1860's she is amazed at the amount of alcohol that the Matron bought. Workhouse historian Peter Higginbotham and Dr Patricia Barton of the University of Strathclyde explain the changing relationship between drink and medicine in Victorian Britain.
Email: making.history@bbc.co.uk
Write to Making History. BBC Radio 4. PO Box 3096. Brighton BN1 1PL
Join the conversation on our Facebook page or find out more from the Radio 4 website at www.bbc.co.uk/radio4/makinghistory
Presenter: Vanessa Collingridge
Producer: Nick Patrick
A Pier production for BBC Radio 4.
Last on