Add music you love and enjoy it with
The Definitive Simon & Garfunkel, Columbia

George Michael - Ladies & Gentlemen, Epic

Big Screen Belter

Gladys Knight & The Pips - Singles Al, Pro-Tv

Ray Charles - The Collection, Castle Communications

Lightning Seeds - Cloudcuckooland, Ghetto

Madonna

Open Your Heart

Madonna - The Immaculate Collection, Sire, 13

The Animals

Don't Let Me Be Misunderstood

The Hits Of 1965 (Various Artists), MFP

Smoke & Mirrors, Geffen, 1

Mika

Grace Kelly

(CD Single), Casablanca

Now 1983 - The Millennium Series, EMI

Selina's Golden Oldie

The Very Best Of The Osmonds, Polydor, 1

Enrique Iglesias & Nicole Scherzinger

Heartbeat

(CD Single), Polydor, 2

The Very Best Of Supertramp, A&M

The Kinks - The Definitive Collection, Polygram Tv

Presley - The All Time Greatest Hits, RCA

(CD Single), Warner Music UK, 1

Keane and K'Naan

Stop For A Minute

(CD Single), Island, 1

Queen

Fat Bottomed Girls

Queen - Greatest Hits, Parlophone

Talk On Corners (Special Edition)

Gobsmackers #1

Creme

Under Your Thumb

The Very Best Of 10cc, Mercury

Gobsmackers #2

MASH

Theme From MASH (Suicide Is Painless)

The Best Of Cult Fiction (Various), Virgin

Our Friends Electric (Various Artists, Telstar

The Rolling Stones - Remastered, Abkco
Today's show was dedicated to all truckers

Today's show was entitled: "Hit the road, and what's been your strangest load?"

Today's show starred:

Linda Martin from Staffordshire who chose the Big Screen Belter

Jane Pollard from Skipton who is busy baking on behalf of her son

Adrian Neil from North London who is opening his latest art exhibition

Kat Fenton from Derby is playing a spinning plate in Beauty And The Beast

Ben Sears from Worcester who went to school as a six year old yesterday

Jack Harvey from Norfolk is taking his labrador puppy into school for his class to draw

Kerry Gorton from Bedfordshire chose the Golden Oldie

Musician Huey Lewis in London

She-Drummer Caroline Corr was today's Mystery Guest

Chris Gill from North Yorkshire chose the Gobsmackers

Rev'd Ruth Scott gave us reason to Pause for Thought

Pause for Thought

From Rev'd Ruth Scott, an Anglican vicar in Richmond:

"Early in the summer I saw a silver metal tree in a village gift shop. It stood about 2" high, was covered in masses of silver leaves and 3 glass candle holders hung from its lower branches. I knew my students at school would love, and make use of it.

Last term tragedy struck our school community. We worked through our grief by drawing masses of pictures, writing poems and songs, tying messages to helium balloons, and lighting hundreds of candles. I was reminded of that time when I saw the photo this weekend of candles being lit by those keeping vigil at the Chilean Mine. Hopefully they'll soon be doing the same thing to celebrate the rescue of their loved ones.

Whether at times of celebration or catastrophe, a candle burning can say so much more than words. I remember my godson as a toddler seeing for the first time lots of candles alight in a Cathedral Chapel. The silence was broken by him singing 'Happy Birthday to you.' at the top of his voice.

Symbols and rituals, and all the other languages of the Arts, can't change what's happened, but they can give shape to it in a way that simply stating the facts of the matter can't. At a human level they create a sense of connectedness, which brings me back to the silver tree.

Chris, I didn't buy it when I first saw it. It was too expensive, but last week I went back to the shop resolved to get it if it was still there. It was. Chatting to the shop owner I told her how my kids at school would use the tree, how they'd light the candles and, when someone was on their mind through illness or some other problem, they could stick a tiny jewel on one of the leaves – a gem of a thought or prayer for that person.

Unexpectedly, when I came to pay, the woman charged me only half the price. The image I'd shared had touched her heart as well as her mind - just as the memory of her random act of kindness has warmed mine ever since."
BBC Playlister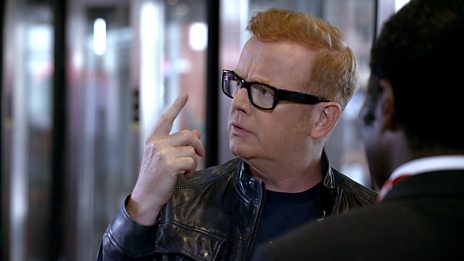 Chris has a song stuck in his head - but what is it? That's why he needs BBC Playlister!
500 WORDS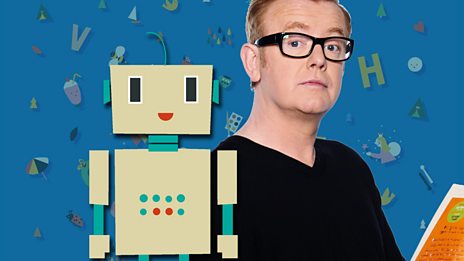 Featuring celebrity videos and top writing tips!
Free download
Catch up with the latest Breakfast fun with Chris Evans. Hear the best stories and the biggest…