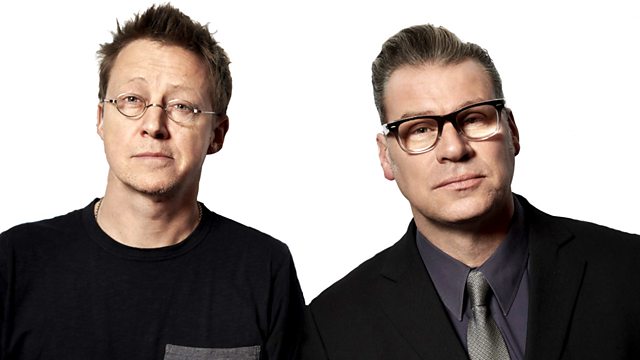 15/10/2010
Mark Kermode and Simon Mayo are joined by Anton Corbijn, the director of George Clooney's new film The American, and Bond movie composer David Arnold, and introduce their new Wittertainment Code of Conduct.
Grammy Award winning composer David Arnold has written the film scores for several Bond films, as well as Independence Day and Stargate. Along with singer Tommy Pearson, he joins Mark and Simon in the studio ahead of a charity concert of movie themes and songs. He also performs Only Myself to Blame, which was originally scored for the movie The World Is Not Enough.
Anton Corbijn is a leading Dutch film director, photographer, and music video director who's worked with artists including U2, Depeche Mode and Nirvana. He made his feature directorial debut with Control, a biopic on Joy Division's Ian Curtis. His follow-up is The American, a stylish thriller starring George Clooney as a jaded hit man. He tells Simon and Mark all about it.
As always there's a countdown of the top ten films at the cinema, and reviews of the week's new releases, including Despicable Me, Vampires Suck and The Social Network, Mark's movie of the week.
Last on
The Wittertainment Code of Conduct