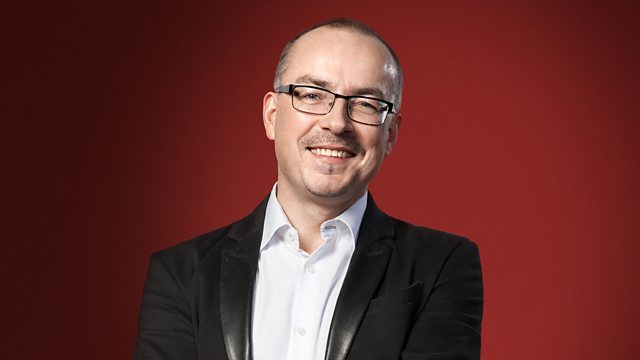 Building a Library: Mussorgsky: Boris Godunov
CD Review with Andrew McGregor bringing all that new from the world of classical music recording also including:
09.05am
MOZART: Die Zauberflote, K620
Daniel Behle (Tamino) / Marlis Petersen (Pamina) / Daniel Schmutzhard (Papageno) / Sunhae Im (Papagena) / Anna-Kristiina Kaappola (Konigin der Nacht) / Marcos Fink (Sarastro) / Kurt Azesberger (Monostatos) / Inga Kalna (1st Lady) / Anna Grevelius (2nd Lady) / Isabelle Druet (3rd Lady) / Konstantin Wolff (Speaker) / Joachim Buhrmann, Konstantin Wolff (2 Priests) / Magnus Staveland, Konstantin Wolff (2 Armed Men) / Alois Muhlbacher, Christoph Schlogl, Philipp Potzlberger (3 Boys) / Rene Moller, Clemens-Maria Nuszbaumer, Christian Koch (3 Slaves) / RIAS Kammerchor & Akademie fur Alte Musik Berlin / Rene Jacobs (conductor)
Harmonia Mundi HMC902068/70 (3 CDs)
BRAHMS: Piano Quintet in F minor, Op. 34; Intermezzi, Op. 117; Intermezzo in A major, Op. 118 No. 2
The Schubert Ensemble / William Howard (piano)
Champs Hill Records CHRCD011 (CD)
BRAHMS: Horn Trio in E flat; DUVERNOY; Horn Trio no.1 (Adagio - Allegretto); MOZART: Horn Trio in E flat
Sarah Willis / Kotowa Machida / Cordelia Hofer
Musik Alexander (CD)
BRAHMS: Fantasies (7 piano pieces), Op. 116; Variations and Fugue on a Theme by Handel, Op. 24; SCHOENBERG: Suite for Piano, Op. 25; 6 kleine Klavierstucke Op. 19
Shai Wosner (piano)
Onyx ONYX4055 (CD)
09.35am Building a Library
Mussorgsky's Boris Godunov
Stephen Walsh recommends a recording of this Pushkin-inspired operatic masterpiece.
Recommended recording:
Stephen Walsh recommends the performance conducted by Mstislav Rostropovich for the eloquent Boris of Ruggero Raimondi and for the conductor's instinctive pacing of this massive score.
MUSSORGSKY: Boris Godunov
Ruggero Raimondi / Paul Plishka / Kenneth Riegel / Nicolai Gedda / Galina Vishnevskaya / Choral Arts Society of Washington / National Symphony Orchestra of Washington / Mstislav Rostropovich
Erato 2564 68017-3 (3CDs)
10.30am
DVORAK: Waldesruhe (Silent woods) for cello and orchestra; Rondo in G minor for cello and piano; ELGAR: Cello Concerto in E minor; Sospiri; Salut d'amour; La Capricieuse; RESPIGHI: Adagio con variazioni for cello and orchestra; VASKS: Gramata cellam
Sol Gabetta (cello) / Danish National Symphony Orchestra / Mario Venzago (conductor)
RCA 88697630812 (1 CD with bonus disc)
Byrd Edition Volume 13 - Infelix ego
BYRD: Venite, exsultemus Domino; Domine, non sum dignus; Visita, quaesumus Domine; Domine, salva nos; Haec dies; Cunctis diebus; Gaudeamus omnes;Timete Dominum – Venite ad me; Lustorum Animae; Beati mundo corde; Deo gratias; Afflicti pro peccatis nostris; Cantate Domino; Laudate Dominum, omnes gentes; Infelix ego
The Cardinall's Musick / Andrew Carwood
Hyperion CDA67779 (CD)
10.55am New Releases
Simon Heighes looks at some recent recordings of music by some of Handel's near contemporaries including a premiere recording of the oratorio The Passions from the Oxford-based William Hayes from Antony Rooley, harpsichordist, Mitzi Meyerson's two disc set of keyboard suites by Richard Jones and London Baroque's latest disc: The Eighteenth Century Trio Sonata.
RICHARD JONES: Sets of Lessons for the Harpsichord
Mitzi Meyerson (harpsichord)
Glossa GCD 921805 (2 CDs)
The Trio Sonata in 18th-Century England
RAVENSCROFT: Sonata in G major; HANDEL: Sonata in G minor; Sonata in D major; AVISON: Sonata in D minor; BOYCE: Sonata in D major; ARNE: Sonata in G major; ABEL: Sonata in G major; ERSKINE: Sonata VI in G
London Baroque
BIS Records BIS-CD-1765 (CD)
William Hayes: Professor of Music
HAYES: Concerto Grosso in D major; Ode to Echo; Harpsichord Concerto in G major; Trio Sonata in E minor; A Winter Scene at Ross in Herefordshire; Concerto Grosso in G minor
Corelli Orchestra / Warwick Cole (director)
COR 210 (CD)
HAYES: The Passions. An Ode for Music
Chor der Schola Cantorum Basiliensis / La Cetra Barockorchester Basel / Anthony Rooley / Evelyn Tubb, soprano / Ulrike Hofbauer, soprano / Sumihito Uesugi, countertenor / David Munderloh, tenor / Lisandro Abadie, bass
Glossa GCD 922501 (CD)
11.40am Disc of the Week
MOZART: Die Zauberflote, K620
Harmonia Mundi HMC902068/70 (see above for details)
Last on