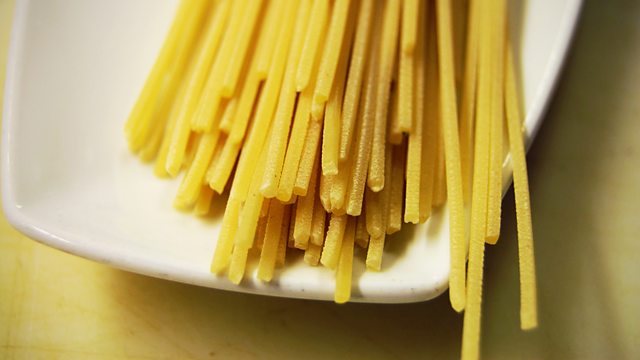 Pasta
Listen in pop-out player
Sheila Dillon looks behind the scenes of the world's largest and smallest pasta factories. It's a difficult time as wheat prices are high and so competition for grain is fierce.
Fires, droughts and speculation in the wheat market together with poor harvests of durum wheat is creating a rise in prices. Pasta producers all over the world compete for the best quality semolina, produced from the milled, high protein and low yielding durum crop.
John Dickie, Professor of Italian Studies at University College London, outlines the rise and rise of pasta making in Italy dating back to the Middle Ages. Sicily had a large scale pasta export business dating back at least 1000 years but it wasn't until Italy's economic boom of the 1960's that pasta became a truly national dish.
Reporter Dany Mintzman follows five tonnes of spaghetti as it travels along the production line of the world's largest pasta factory, owned by Barilla, a family owned business started in the 1870s.
Farmers in the UK used to grow durum wheat when it was an EU subsidised crop. Although it is best suited to hot and dry weather conditions a lot of it was then used by British companies producing dried pasta for the supermarkets. That is no longer the case and the last factory selling mass market pasta stopped production in 2001, unable to compete with the vast scale of the Italian producers.
However in Cornwall, one farmer, Charlie Watson-Smyth has spent the last two years trying to grow durum wheat and then turn it into pasta to sell in his farm shop. As reporter Dilly Barlow discovers it's been such a success that he's now supplying The Eden Project and restaurants around Padstow.
Produced by Dan Saladino.
Last on