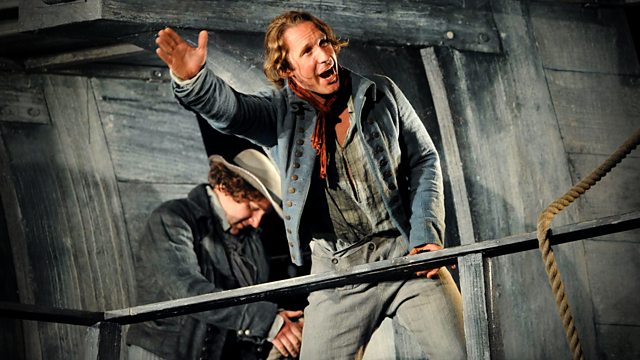 Britten's Billy Budd
From this summer's Festival, a first for Glyndebourne: a new production of Benjamin Britten's Billy Budd, based on Herman Melville's allegorical tale of good versus evil on board an 18th century warship. Jacques Imbrailo sings Budd, a young foretopman whose beauty and goodness makes him immediately popular with the crew. But those same qualities also draw a strong reaction from the Master at Arms, John Claggart, and feelings he would rather leave repressed. John Mark Ainsley sings Captain Vere, whose fateful decision on board haunts him for the rest of his life.
Andrew McGregor talks to director Michael Grandage about his operatic debut, and to Mark Elder who is also conducting Budd for the first time.
Captain Vere ..... John Mark Ainsley (tenor)
Billy Budd ..... Jacques Imbrailo (baritone)
Claggart ..... Phillip Ens (bass)
Mr. Redburn ..... Iain Paterson (bass)
Mr. Flint ..... Matthew Rose (bass)
Lieutenant Ratcliffe ..... Darren Jeffery (bass)
Red Whiskers ..... Alasdair Elliott (tenor)
Donald ..... John Moore (baritone)
Dansker ..... Jeremy White (bass)
The Novice ..... Ben Johnson (tenor)
Squeak ..... Colin Judson (tenor)
Bosun ..... Richard Mosley-Evans (baritone)
The Glyndebourne Chorus
London Philharmonic Orchestra
Mark Elder, conductor.
Last on