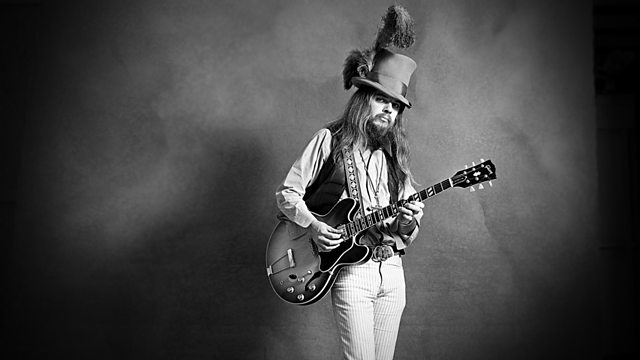 Singing This Song For You: The Leon Russell Story
Leon Russell's career runs the musical gamut from Sinatra to the Stones, the Beach Boys and BB King. He's written some of the most-covered songs in the pop songbook, and three Stones and two Beatles performed on his debut solo record, yet he isn't a household name.
Even by 1970, when Russell made his first solo album, his achievements as a sideman and songwriter were impressive. He'd started playing clubs in Tulsa while still in his mid-teens, as rock 'n' roll itself was being born. By his early 20s, he was a member of the hallowed LA studio band the Wrecking Crew, both with and without Phil Spector. Leon played with the Byrds, Mamas and Papas, Beach Boys, Sonny and Cher and many others. As an arranger, he shaped the sound of such timeless singles as Ike and Tina Turner's River Deep, Mountain High, Herb Alpert's A Taste of Honey and the Byrds' Mr Tambourine Man.
By the late 60s, Russell was coming into his own both as a recording artist (recording with Texas musician Marc Benno under the name the Asylum Choir) and as a writer. Joe Cocker's recording of his sassy Delta Lady [written about Leon's girlfriend of the time, Rita Coolidge] became a UK top ten hit. Russell subsequently lead the band on Cocker's Mad Dogs and Englishmen tour and appeared in the movie of the same name.
Leon's 1970 solo debut album featured a cast of admiring stars including Cocker, Eric Clapton, Steve Winwood, three Stones (Messrs Jagger, Wyman and Watts) and two Beatles (George and Ringo). Russell also appeared at George Harrison's Concert for Bangladesh, before reaching his own commercial peak in 1972, when the Carney album spent a month at number two in the Billboard chart. But the early 70s were also Russell's purple patch as a writer.
Superstar (perhaps better remembered by its lyrical hook "Don't you remember you told me you loved me, baby?") became a Carpenters classic; Richard and Karen were also among the countless artists to record the brooding This Masquerade, while George Benson's version was, basically, the song that broke him as a vocalist. A Song for You, meanwhile, has inspired a mind-boggling number of covers by classic vocalists and stars of pop, soul, country and beyond, including Donny Hathaway, Ray Charles, Whitney Houston, Christina Aguilera, Michael Buble, Peggy Lee, Willie Nelson, Dusty Springfield and countless others.
Paul examines not only the incredible career peaks, but explores how and why Russell slipped slowly into relative obscurity. Leon continued to chart albums in the US until the early 1980s, but when Elton called him to suggest the meeting which kick-started their album collaboration, he was playing an endless series of low-profile shows, ever the hardworking road musician.
Elton John heads a list of contributors that includes Keith Richards, Charlie Watts, Herb Alpert, Marc Benno, former girlfriend Christine O'Dell and new admirer Rumer. The documentary broadcast last year, just ahead of the release of The Union, his collaboration with Elton John, and his Electric Proms performance.