Music and featured items
24 items
Add music you love and enjoy it with
While Moira's away, Selina Scott joins Chris and the team for this week's Breakfast show.

Andrew Flintoff speaks to Chris about his retirement from Cricket.

The Beatles : 1967-1970, Apple, 13

The Beatles : 1967-1970, Apple, 1

(CD Single), Relentless, 1

Boston

More Than A Feeling

Rock Of America (Various Artists), Trax Label

MOIRA'S GOLDEN OLDIE

Edison Lighthouse

Love Grows (Where My Rosemary Goes)

70's Number Ones Vol 3, Old Gold

Culture Club

Church Of The Poison Mind

More Greatest Hits Of 80's (Various), Disky

(CD Single), Parlophone, 1

Now 12 (Various Artists), Now

The Rolling Stones - Forty Licks, Abkco

The Faces

Stay With Me

Glam Crazee - Various Artists, Virgin

Presley - The All Time Greatest Hits, RCA

The Greatest Hits Of 1971 (Various), Premier

GOBSMACKER #1

Tom Robinson

2-4-6-8 Motorway

The Greatest Hits Of 1977 (Various), Premier

GOBSMACKER #2

Beautiful Game (Various Artists), Universal

Hits Of Hot Wax & Invictus (Various), Hdh

Madness

It Must Be Love

The 80's Love Album (Various Artists, Virgin

Country Roads (Various Artists), Polygram Tv
Today's Show: When You Can Go Sideways Down A Straight, You Know You Can Handle A Motor Car

Today's show was dedicated to a man called Grant Williams who did things yesterday with an MK 1 Jaguarthat I didn't think were possible...

Today's Show Starred:

Huw Marshall from Cardiff who celebrated his 40th

Archie Jury from Worcestershire who had his first bassoon lesson

Teresa McCrum from Bradford who headed home from seeing U2 in Paris

Ollie Howlett from Bognor Regis who took a horse road safety course

Charlotte Evans from Somerset who went to see the Duke Of Gloucester

Andrew "Freddie" Flintoff who is one of our cricketing heors

Kevin McCloud who is the presenter of "Grand Designs"

Melvyn Leak from Shetland who chose today's Gobsmackers

Reverend Rob Gillion who gave us some wise words

Pause for Thought

From Rev'd Rob Gillion, Area Dean of Chelsea and Rector of Holy Trinity Church

Chris, scientists have identified a gene that causes short sightedness – a discovery which I hope might pave the way for treatment to prevent one of the world's most common eye disorders. So could this mean an end to spectacles?

Where would that have left us, Chris? Surely part of our identity is our specs. I have to say a pair of glasses used to come with its own brand of humiliation in the classroom – four eyes, gilligogs, specky nerd.

However the revelation for me at the age of seven when I emerged from the optician was as close as it comes to a miracle and the teasing was worth it.
I had been invited to watch a neighbour's television as we didn't have one – but I couldn't understand why everyone didn't join me close up to the screen, how could they see anything back there on the sofa? Then I used to miss my bus at the request stop because the numbers on the bus were too small and didn't see it until it was too late. I was a back of the class kid, so education suffered too.

Eventually my parents sent me off for an eye test. Suddenly I saw the world in glorious sharp clear focused technicolor. It was glorious moment

It became a metaphor for faith in later years. When I began to look at life through Christ like eyes I could see the beauty of the world as God sees it. Jesus gave sight to a blind man as a symbol of the same.

So I am happy to wear my glasses with pride as a symbol of seeing the world through the clarity of God's eyes with love and compassion, even if sometimes I am ridiculed for what I believe.

I have always been proud to wear my specs since then, and now I notice so many of my heroes wear specs with pride - Michael Caine, David Beckham, Dame Edna, Harry Potter, and of course… you Chris – looking handsome, cerebral and a bit of a thinker.
BBC Playlister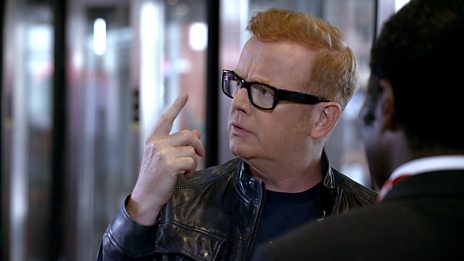 Chris has a song stuck in his head - but what is it? That's why he needs BBC Playlister!
500 WORDS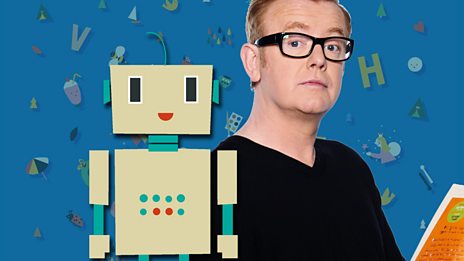 Featuring celebrity videos and top writing tips!
Podcast
Catch up with the latest Breakfast fun with Chris Evans. Hear the best stories and the biggest…