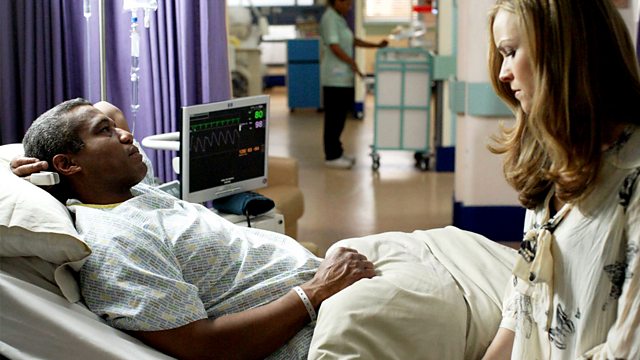 Frieda challenges Penny over a tricky diagnosis, and when the patient goes into crisis she saves his life. Penny challenges Frieda on her surgical know-how, and Frieda is forced to admit she trained as a doctor. Penny is sworn to secrecy.
Ric has survived surgery, but faces a long struggle with chemotherapy. Feeling isolated, he refuses treatment, until Annalese and a reluctant Michael help him realise he has the long-term support to battle his cancer.
Joseph is pleased that Faye has allowed him a place in their child's future. But when scans reveal their son is perfectly healthy, Lady Byrne muscles in, and Faye rejects all help from Joseph - she doesn't want her child to grow up a Byrne.
Last on
Credits
| Role | Contributor |
| --- | --- |
| Ric Griffin | Hugh Quarshie |
| Michael Spence | Hari Dhillon |
| Jac Naylor | Rosie Marcel |
| Joseph Byrne | Luke Roberts |
| Penny Valentine | Emma Catherwood |
| Faye Byrne | Patsy Kensit |
| Mark Williams | Robert Powell |
| Donna Jackson | Jaye Jacobs |
| Frieda Petrenko | Olga Fedori |
| Elizabeth Tait | La-Charne Jolly |
| Annalese Carson | Anna-Louise Plowman |
| Lady Byrne | Jane Asher |
| Norman | Richard Bremmer |
| Tim O'Neill | Paul Brennen |
| Glyn Hibbert | John Hodgkinson |
| June Shields | Maggie McCarthy |
| Siobhan O'Neill | Melanie Ramsay |
| Director | Michael Buffong |
| Producer | Jane Wallbank |
| Writer | Joe Ainsworth |