Add music you love and enjoy it with
Timings (where shown) are from the start of the programme in hours and minutes
00:00

The Books

Group Autogenics I

The Way Out, Temporary Residence TRR 183

00:04

Hymni, Diatribe DIACDSOL04

00:11

David Fanshawe

Gilo Stones from the Solomon Islands

Music of the South Pacific, Arc EUCD 1709

00:13

Steve Reich

Music for pieces of wood

Artist: Splash Percussion NRW

Classic Clips CLCL15

00:22

Hespèrion XX

Canarios (Improvisación)

El Nuevo Mundo – Folias Criollas, AliaVox AVSA9876

00:27

Philharmonics, PIAS R195CDX

00:29

Dave Smith

Bossa Nova

Artist: Sarah Walker (piano)

Dave Smith piano music

00:33

Majaz, World Village 479032

00:39

The Books

The Story of Hip-Hop

The Way Out, Temporary Residence TRR 183

Late Junction collaboration session – Pekka Kuusisto & Valgeir Sigurðsson

00:44

Pekka Kuusisto & Valgeir Sigurðsson

Kill Your Darlings

BBC session recording, 4 September 2010

00:50

Pekka Kuusisto & Valgeir Sigurðsson

Harður Rokkur

BBC session recording, 4 September 2010

00:56

Pekka Kuusisto & Valgeir Sigurðsson

Man-made Disaster

BBC session recording, 4 September 2010

01:02

Innundir Skinni, One Little Indian TPLP 1065CD

01:05

Classic Sounds of New Orleans, Smithsonian SFW 40182

01:09

An Ark for the Listener, Touch TO:81

01:13

An Ark for the Listener, Touch TO:81

01:21

Welcome to my world, 30 Hertz 30HZCD32

01:25

Book of Ways, ECM 831 398 2

01:30

Simon Limbrick

Lateral

Hammer, www.marimbo.com

01:33

Simon Limbrick

Whirl Part 1

Hammer, www.marimbo.com

01:36

Fennesz Daniell Buck

Fennesz Daniell Buck - Unüberwindbare Wände

Knoxville, Thrill Jockey THRILL 246
Pekka Kuusisto and Valgeir Sigurðsson

See more photos

The BBC is not responsible for the content of external websites

Pekka Kuusisto & Valgeir Sigurðsson Session

Finnish violinist Pekka Kuusisto and Icelandic producer Valgeir Sigurðsson share many of the same musical ideals. They both hail from isolated countries, and feel most at home in the recording studio. They jumped at the chance to collaborate together for the first time for Late Junction.
Pekka has built up an international solo career as an artist across both classical and more contemporary idioms. He takes his double violin case, which houses his Guadagnini and electric violin, to all concerts and is regularly found dragging a large suitcase full of effects pedals behind him. Valgeir runs his own studio and record label from Reykjavik and has produced albums by artists including Björk, The Magic Numbers and Nico Muhly. He is a master of using the studio as a musical tool and was able to morph acoustic sounds beyond recognition live during the session by routing them through his laptop.

They augmented their usual setup of violin and laptop by drawing on the full range of instruments available to them in the BBC's Maida Vale studios including 2 Steinway grand pianos, Fender Rhodes, celeste and timpani. The result was three completely original and contrasting works. Pekka confided afterwards that he had a secret proposal to present to Valgeir over dinner for a future collaborative project. It may well have something to do with taking an inflatable timpani from Helsinki to Reykjavik...
Late Junction on BBC Playlister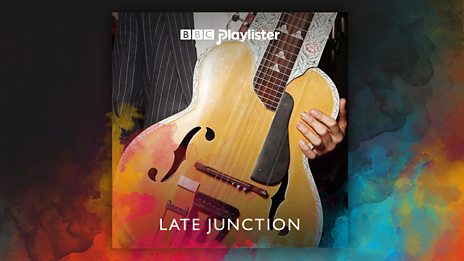 Selections from Radio 3's eclectic showcase of music from around the world.
Free download
Late Junction's unique studio sessions bring together musicians who have never recorded together…