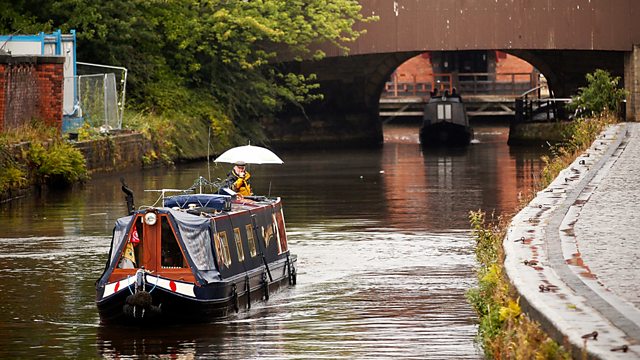 Leeds-Liverpool Canal
Listen in pop-out player
Helen Mark travels along a stretch of the Leeds and Liverpool Canal and hears from just a few of the people whose lives revolve around it. Stretching 127 miles the canal crosses the Pennines, and climbing to 487 feet at its summit, the canal has 91 locks including the unique 5-rise lock at Bingley in Yorkshire.
Helen hears from Vince Moran of British Waterways about the reason for the recent closure of almost half of the canal from Wigan to Gargrave following the prolonged spell of dry weather earlier this year. She also chats to boaters who have made the canal their home. Mike Clarke of the Leeds and Liverpool Canal Society tells Helen about the canal's history and about his involvement with the Short Boat Kennet, one of the last unconverted boats which worked on the Leeds & Liverpool Canal. Kennet is on the Register of Historic Vessels and serves as a reminder of the canal's heritage.
Helen then joins Don Vine from the Yorkshire Wildlife Trust on a boat trip to an area between the canal and the River Aire where a special project is underway to improve the habitat for otters, before meeting up with John Fairweather at the unique 5 Rise Lock at Bingley for an insight into life as a lock-keeper on the longest canal in the UK.
Producer: Helen Chetwynd.
Last on