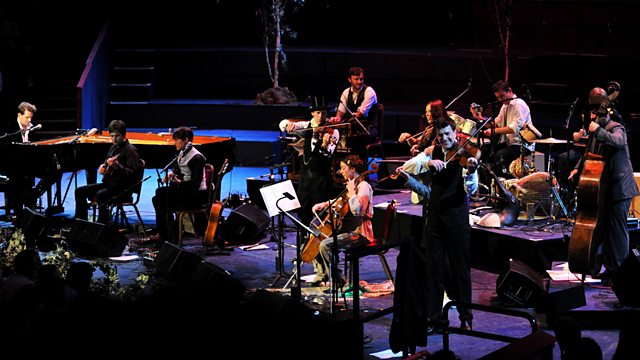 BBC PROMS 2010
Presented by Catherine Bott
Another chance to hear the quirky music of the Penguin Café.
'I think our recordings have been put in the classical, folk, pop, rock, avantgarde, chillout, world and dance sections of record shop,' says Arthur Jeffes, leader of Penguin Café, the 21st-century reincarnation of the Penguin Café Orchestra made famous by his father Simon Jeffes.
In this Late Night Prom from September the Penguin Café's wide-ranging lineup: ukulele, dulcitone, penny whistles and guitars alongside violin, cello and piano, supplemented by the Northumbrian smallpipes - played by their star champion Kathryn Tickell.
Kathryn Tickell (Northumbrian smallpipes)
Penguin Café.
Last on